Two major Arctic Ocean shipping routes open simultaneously as ice recedes
Thursday, September 1st 2011 - 05:29 UTC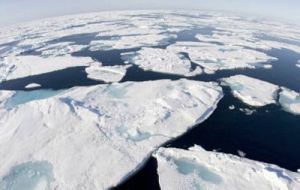 Two major Arctic Ocean shipping routes have opened simultaneously for only the second time since satellite observation began in the 1970s, researchers say.
Satellites in 2008 saw the Northwest Passage in the Canadian Arctic and the Northern Sea Route above Russia were open simultaneously for the first time since satellite measurements started, and researchers say it has happened again, the European Space Agency reported in a release from its Paris headquarters this week.
The ESA monitors arctic ice with its Envisat, CryoSat and SMOS satellites.
Satellites have recorded reductions in the minimum ice extent at the end of summer during the last 30 years, from around 3 million square miles in the early 1980s to the historic minimum of less than 1.6 million square miles in 2007.
The early opening of both sea passages this year suggests a possible record low in ice cover.
"Whether we reach an absolute minimum or not, this year again confirms that we are in a new regime with substantially less summer ice than before," Leif Toudal Pedersen, a senior scientist at the Danish Meteorological Institute, said. "The last five summers are the five minimum ice extent summers on record.