US private sector job growth slowed in August for second month running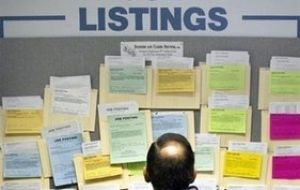 The pace of US private sector job growth slowed in August for the second month in a row with employers adding 91,000 positions, a report by a payrolls' processor showed Wednesday.
The US economy needs to generate more jobs on a sustained basis in order to bring down unemployment, which has been at 9% or higher in 25 of the past 27 months. A Labour Department report to be released Friday is projected to show businesses added less jobs than the 154,000 increase in July.
The ADP report said its figures didn't reflect the labour dispute that affected roughly 45,000 workers at New York-based Verizon Communications Inc. The workers were on strike for two weeks before returning to their posts Aug. 22 under the terms of their previous contract.
Over the previous six reports, ADP's initial figure was closest to the Labour Department's first estimate of private payrolls in February, when it understated the gain in jobs by 5,000. The estimate was least accurate in June, when it overestimated the increase in employment by 100,000.
Last month, ADP's initial figures showed an 114,000 gain in company payrolls for July, while the Labour Department's data showed a 154,000 increase.
The ADP report showed an increase of 11,000 workers in goods-producing industries last month, which include manufacturers and construction companies, but employment at factories dropped by 4,000.
Orders to manufacturers, a pillar of the expansion, contracted last month for the first time since June 2009, the month the recession ended, according to figures from the Institute for Supply Management
Another report today showed employers in August announced more job cuts than a year earlier. Planned firings climbed 47% from August 2010 to 51,114, according to figures released by Chicago-based Challenger, Gray & Christmas Inc. Job-cut announcements were led by the government and financial and retail industries.
The ADP report is based on data from about 340,000 companies with more than 21 million workers on payrolls. Macroeconomic Advisers LLC in St. Louis produces the data with ADP.