Almost half of foreign residents in Argentina are from Paraguay and Bolivia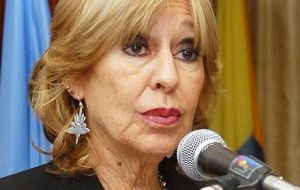 Of the just over 40 million Argentines, 4.5% are foreigners, according to the latest census, and the most numerous community is made up of over half a million from neighbouring Paraguay.
"Most foreigners come from the region (81.5%), and the Paraguayan community is the most numerous with 550.173, followed by Bolivians who total 345.272", said Ana Maria Edwin, head of Argentina's Statistics and Census Office, Indec.
The third most numerous foreign community are Chileans with 191.147, most of them living in Patagonia and in fourth place Uruguay with, 156.592 members.
Paraguayans and Bolivians make up half the foreigners established in Argentina, and in the case of Paraguay the number of women is 25% higher than that of men.
The number of Chinese residents in Argentina totals 8.929.
"Migrations are the history of Argentina" and in the first half of last century a majority of arrivals came mainly from Europe, while in the second half, most have been from South America.
Ms Edwin said that according to the 1914 census, "virtually 30% of the Argentine population then was foreign", but since it begun to decline until it reached 4.2% in 2001 and in the 2010 census "we have that migration is up again albeit with a modest increase of 0.3 percentage point to 4.5%"
The 4.5% represent 1.805.957 people and between the 2001 and 2010 census this segment of the Argentine population has increased by 300.000, equivalent to 20% which is higher than the overall percentage.
Another interesting fact shown by the census is that a majority of foreigners are females, mainly from countries such as "Brazil, Paraguay and Peru".

When asked why the increase in foreign migration Ms Edwin said the Indec report states that it can be attributed to Argentina's "better work opportunities, free access to health and education and other social benefits".
Another interesting piece of information is that the census registered 3.487 people over a hundred years old.