Chilean military plane with 21 people crashes near Juan Fernandez Island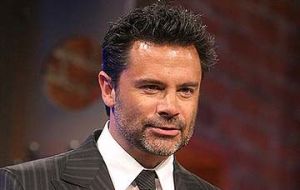 A military plane with 21 people aboard went missing off Chile's Pacific coast near the Juan Fernandez Islands, authorities said on Friday.
The CASA 212 military plane tried to land twice before losing contact, Defense Minister Andres Allamand told reporters.
"As it was approaching the island, it was declared missing after radio contact was lost," Allamand said, adding search teams were heading to the area.
Chile's TVN Executive Director Mauro Valdes said that five of the passengers were employees of the television station, including Felipe Camiroaga, a well-known and popular presenter.
The mayor of the islands, Leopoldo Gonzalez, told state television that passengers' belongings had been found in the sea about a kilometre from the islands' landing strip.
Local radio Bio Bio later cited Gonzalez as saying a door of the plane had been found in the water.
Felipe Paredes, who mans the control tower at the landing strip, said he saw the plane struggling to land and cited heavy winds and sporadic rain.
"When the plane was blown off course by the wind, it managed to pull up again," Paredes said. He said he then lost sight of the plane.
Sea and air search operations will resume early Saturday, according to Gen. Jorge Rojas, commander of the Chilean air force.
The country's president, Sebastian Piñera, vowed to investigate the circumstances surrounding the "possible accident."
"This is a tough blow to our country, but it is precisely these moment of anguish and uncertainty that require the unity and solidarity of all Chileans" the president said.