Lula da Silva says Dilma will complete eight years, steps down from 2014 election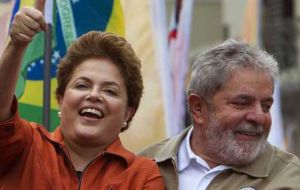 Former Brazilian president Lula da Silva and undisputed leader of the ruling Workers Party said on Friday that President Dilma Rousseff will be governing Brazil for the next eight years and announced he's stepping down from any further presidential aspiration in 2014.
Lula da Silva made the announcements at the opening of the Workers Party congress in Brasilia before hundreds of delegates in which he praised the first eight months of President Rousseff's beleaguered administration.
"For whom is going to rule the country for the next eight years, the first eight months are very few, it's not more than 10%", said the Brazilian leader who was acclaimed by party militants shouting, "Lula, Warrior of the Brazilian people".
Only a few weeks ago Communications minister Paulo Bernadro and a close advisor of President Rousseff said that the two leaders would have to jointly decide on who will be the Workers party presidential candidate for 2014.
Lula da Silva left office last January first after eight years with a record public opinion support of 80%, unparalleled in Brazilian history, and was unable to run for a third consecutive mandate because of a constitutional ban, but he could again run in 2014.
Rousseff who was Lula da Silva's most efficient cabinet chief, praised the achievements of her charismatic predecessor and political sponsor, and the eight and a half years in "which our project is managing and transforming the destiny of our nation".
The Workers Party congress is a continuation of the previous one last year which on suggestion of Lula da Silva, proclaimed Dilma Rousseff as presidential candidate. Deliberations are scheduled to last all week end and should end with a document in support of the current administration.
Lula da Silva's statements are also seen as yet another support to President Rousseff who has been beleaguered by the resignation of six ministers and deputies (plus a few more 'suspect-candidates' including her current cabinet chief), mostly involved in corruption allegations.
This together with an austere budget and spending cuts in pork-barrel projects has created tension inside the ruling coalition of over ten parties thus delaying her legislative agenda which desperately needs the approval of fiscal, social security and environment reforms, ahead of major events, the World Cup in 2014 and Olympic games in Rio do Janeiro two years later.