In the US eight out of ten think the economy is in recession, shows CNN poll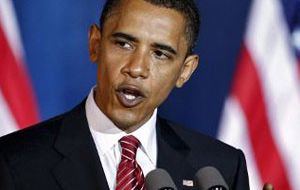 More than eight in 10 US residents think the economy is in another recession, according to a new CNN/ORC poll. One-third of those surveyed think it's serious.
While the US isn't technically in a recession because the economy hasn't experienced two straight quarters of negative growth, the poll's results highlight the importance of President Barack Obama's jobs speech next Thursday night.
Americans have "a bad case of economic jitters," according to CNN Polling Director Keating Holland. About two-thirds think the president should focus more on creating jobs right now, even if it means less deficit reduction.
Don't expect Republicans to stop demanding more budget cuts though. Almost half of GOP surveyed say deficit reduction is just as important as creating more jobs, including those who identify themselves as tea party supporters.
Democrats strongly disagree. Eighty-three percent want the president to focus more on job growth, and two-thirds of independents say the same.
This could hint at President Obama's economic plan as he campaigns for re-election. With only 34% of Americans approving of the way he is handling the economy, according to a CNN/ORC Poll released earlier this week, job creation could help the president solidify his party's eroding support, while bringing in key independent voters.
The CNN/ORC International Poll was conducted August 24-25, with 1,017 adult Americans questioned by telephone. The survey's overall sampling error is plus or minus 3 percentage points
Meanwhile Obama, under fire over high unemployment, stepped up pressure on Congress to pass transportation legislation he said would protect almost 1 million American jobs.
"Allowing this bill to expire would be a disaster for our infrastructure and our economy," the president said in his weekly radio address, after a monthly employment report showed the economy created no jobs in August.
Democrat Obama, who will deliver a major speech on Thursday on how he would boost hiring and growth, must bring down a jobless rate stuck at 9.1% to improve his chances of winning a second presidential term next year.
Repeating a message he issued in the White House Rose Garden earlier this week, Obama urged lawmakers to pass multibillion-dollar temporary funding bills for aviation and highway projects, or risk heaping more pain on the economy.
"If it's delayed for just 10 days, we will lose nearly one billion dollars in highway funding that we can never get back. And if we wait even longer, almost 1 million workers could be in danger of losing their jobs over the next year," he said.
Republicans say they support an extension of the highway bill and view Obama's words as a way to deflect criticism over the economy away from the White House and toward Congress.