Seven presidential candidates confirmed in Argentina, but CFK looks unbeatable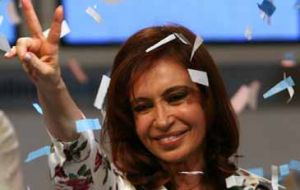 At the closure of the period, seven Argentine presidential tickets registered at the Electoral Justice for the October 23 elections. All seven tickets were confirmed in the 14 August primary elections when President Cristina Fernandez, CFK, trashed all other hopefuls with over 50% of all valid ballots.
The following step in making the tickets official, September 8 and the launching of the presidential campaign that will take place Sunday September 18th, according to the electoral calendar. In the event of no candidate obtaining 45% of the vote or 40% plus ten-points difference over the runner-up, a run-off is scheduled for November 20th.
The seven presidential tickets officially registered on Saturday night include: President Cristina Fernández de Kirchner (Victory Front), Ricardo Alfonsín (Union for Social Development), Eduardo Duhalde (Popular Front), Hermes Binner (Progressive Front), Alberto Rodríguez Saá (Federal Comittment), Elisa Carrió (Civic Coalition) and Jorge Altamira (Leftist Front).
Three pre-candidates were left out because they didn't reach the mandatory 1.5% of votes during the primaries: Alcira Argumedo (Proyecto Sur), Sergio Pastore (Movimiento de Acción Vecinal) and José Bonacci (Rural Popular Party).
In the August 14 primaries Cristina Fernandez obtained 50.24% of the vote with a clear 37 points difference over her closest rival.
Next October 23, Argentines will vote for President, Vice-President, half the Lower House and a third of the Senate, plus nine provincial governors and hundreds of council members and other posts at municipal level.
Given the overwhelming performance of Cristina Fernandez, all presidential candidates publicly or in private admit that it's almost impossible to defeat the incumbent and are concentrating on a good showing at legislative level for which they are campaigning warning of the perils of having an Executive with an ample majority in the Legislative.
"If the 14 August vote is repeated in October with an ample majority for the Victory Front, Argentina could face a serious institutional risk and misbalance between the branches of government" warned Ernesto Sanz, chairman of the Union for Social Development, USD, whose candidate Ricardo Alfonsin was the runner up at the primaries but at a 37-point distance.
"It's going to be very hard to beat Cristina Fernandez, but we will continue to fight to win the elections", said Ricardo Alfonsin the USD candidate and son of former leader Raul Alfonsin, who was the first president of Argentina following the 1976/1983, military dictatorship.
The Argentine military were humiliated by the British in the 1982 South Atlantic conflict when they tried to hold on to the Falkland Islands that they had invaded in April 1982. Following defeat the military were forced out of power in Argentina.
More explicit about the coming October election, Mayor of Buenos Aires City, Mauricio Macri said that "maths are cruel" and the difference Cristina Fernandez has achieved and the "opposition's division make it impossible" to beat the president next October.