Chinese consortium acquires 15% of world's largest niobium producer in Brazil
Tuesday, September 6th 2011 - 22:27 UTC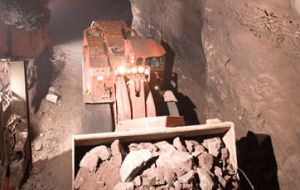 A consortium of five Chinese companies has acquired a 15% stake in Brazil's Companhia Brasileira de Metalurgia e Mineracao (CBMM), the world's biggest niobium producer, for 1.95 billion dollars in cash.
Chinese state-owned investment company CITIC Group and Chinese steelmakers Baosteel Group, Anshan Iron & Steel Group, Shougang Corporation and Taiyuan Iron & Steel Group Co, formed a consortium, China Niobium Investment Holdings Ltd, to acquire a minority stake in CBMM from the Moreira Salles family, one of Brazil's richest banking families.
Brazil holds the largest proven niobium reserves in the world and CBMM is the world's largest niobium producer.
Niobium is a rare mineral with no replacement, used to strengthen steel and in the production of high-grade steel products such as automobiles, infrastructure construction, oil and gas transmission pipelines, large structures such as bridges, towers and buildings, and aircraft engines.
The 15% stake acquisition by the Chinese consortium comes five months after a group of four Japanese and two South Korean companies bought a combined 15% stake in CBMM for about 1.8 billion dollars in March.
The companies are JFE Holdings, Nippon Steel, Sojitz Corp and Japan Oil, Gas & Metals National Corp and South Korea's National Pension Service and steelmaker Posco.
The Moreira Salles family will now hold 70% in CBMM, which has annual revenues of around 1.83 billion dollars.
Founded in 1955 and based in Araxa in the state of Minas Gerais in Brazil, CBMM has a mine with over 800 million tons of niobium reserves, and holds 82% of the world niobium market share.
Worldwide demand for niobium recorded an annual growth rate of some 10% from 2002 through 2009, buoyed by growing need for high-grade steel. Demand for niobium is projected to grow faster than the expansion in world crude steel production, CBMM said in a statement.
Brazil holds the largest niobium reserves in the world, followed by Canada and Australia. According to national mining association Ibram, Brazil produced approximately 80,000 tons of the metal, or 96% of total global output last year.