Emirates airline to open daily non-stop service Bangkok/Rio do Janeiro/Buenos Aires
Tuesday, September 6th 2011 - 22:12 UTC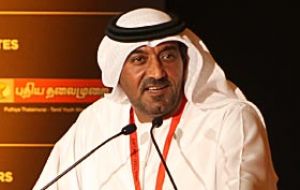 Two of South America's most iconic cities will soon have a faster link to Bangkok when Emirates commences its daily non-stop service to Rio de Janeiro and extension to Buenos Aires from 3rd January 2012.
"Both Buenos Aires and Rio de Janeiro are rightly renowned as world-class leisure destinations as well as important business and trading centres. Our research has shown that there is a high demand for these cities from across our network," said Sheikh Ahmed bin Saeed Al-Maktoum, Chairman and CEO of Emirates Airline & Group.
"Brazil has been part of the Emirates network since 2007 when we began flights from Dubai to Sao Paulo. With the country playing host to both the 2014 FIFA World Cup and 2016 Olympics, Brazil will be further catapulted into the world's spotlight, and we will be in a prime position to transport sports enthusiasts to these renowned events. Meanwhile, our first service to Argentina is a much-anticipated addition to our network which will open important new markets for us," added Sheikh Ahmed.
"Emirates' plans to implement services from Dubai to Buenos Aires and Rio de Janeiro will play an important role in increasing tourism, trade and investment between Argentina, Brazil and the UAE, in addition to the airline's vast global network," said Carlos Enrique Meyer, Minister of Tourism of Argentina.
"Emirates' South America network has certainly seen impressive performance over the years. Expanding Emirates' routes to these remarkable cities underlines the airline's focus on the region and provides an exciting opportunity for travelers from Thailand," said Khalid Bardan, Emirates' Area Manager for Thailand and Indochina.
The Dubai-Rio de Janeiro-Buenos Aires service will be operated by a Boeing 777-300ER aircraft offering eight First Class Private Suites, 42 lie-flat seats in Business and 304 seats in Economy.
Over the last few years, South America has experienced record-paced economic growth, even in the shadow of the global downturn of 2008.