Germany's high court gives Parliament greater say in Euro zone bailouts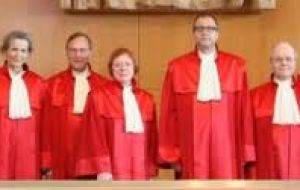 Germany's top court handed its country's parliament a greater say over Euro zone bailouts, potentially hampering Berlin's ability to act decisively against a debt crisis which Chancellor Angela Merkel said needed a fundamental rethink to solve.
The Constitutional Court rejected a series of lawsuits aimed at blocking the participation of Europe's biggest economy in emergency loan packages but said the government must get approval from parliament's budget committee before granting such aid.
"This was a very tight decision. But it should not be mistakenly interpreted as a constitutional blank check authorizing further rescue measures" the judge told plaintiffs, government officials and members of parliament in the courtroom in Karlsruhe.
"Today's ruling should bring some relief to financial markets as a total chaos scenario has been avoided, but it should not lead to euphoria" said Carsten Brzeski at ING.
"The ruling confirms our view that the German piecemeal approach on the debt crisis is not likely to change but eventually the German parliament will vote in favour of a second Greek bailout package and the beefed-up EFSF (euro zone rescue fund)".
With Germany's ability to act quickly constrained, the Euro zone's most indebted nations scrambled to convince investors of their commitment to tackle their debt problems.
Doubts about the will of Italy and Greece to push through the austerity demanded by their partners have darkened the political mood in Europe and triggered renewed pressure in bond markets.
Italy's centre-right government promised on Tuesday to hike value-added tax as it bowed to market pressure for more action on its swollen debt and ignored mass street protests and strikes against its austerity measures.
But such has been the chaos surrounding its austerity process that markets, and more importantly the European Central Bank which has stepped in to buy Italian bonds and prevent it needing a bailout, are unlikely to be convinced yet.
Meanwhile fiscal backsliding in Athens has put a new aid payment from the country's international lenders in danger and prompted lawmakers in Merkel's party to call for Greece's ejection from the 17-nation currency area.