Bank of England won't extend liquidity program; leaves rates at minimum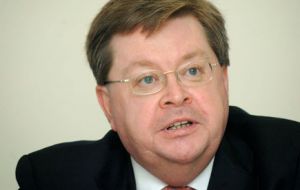 UK interest rates have been held at a record low of 0.5% by the Bank of England's Monetary Policy Committee (MPC). Concerns about the strength of the UK economic recovery meant economists had expected rates to remain unchanged as they have been since March 2009.
The Bank also said it would not be extending its £200bn program of quantitative easing. Earlier, Bank figures showed that savers have missed out on £43 billion due to low interest rates. However, mortgage borrowers have gained £51 billion.
Policymakers have come under increased pressure after Chancellor George Osborne admitted on Tuesday that the economy had weakened and that short-term hopes for growth had been revised down in recent weeks.
Official data showed the UK economy grew by 0.2% between April and June, down from 0.5% in the first three months of the year. And there are growing concerns that the economy may slow even further in the current quarter, particularly in light of weak economic data in recent weeks.
Leading indicators such as manufacturing and services PMI (purchasing managers' indexes) suggest growth is slowing further.
Figures on the service sector, which accounts for about 75% of economic output, indicated that activity suffered its biggest monthly fall in a decade in August.
As a result, some analysts have suggested the Bank may be looking at restarting its quantitative easing program, which involves pumping money into the economy to try to boost demand.
However, Ian McCafferty, chief economic adviser to the CBI business group, said: "Although recent data has brought further evidence of slower economic activity and business confidence has weakened, it is not clear that this requires an immediate policy reaction.
"We hope the UK economy will be on a firmer footing by next year, when a lower inflation rate will bring some relief for households".
Those who rely on the interest on savings for an income, such as some pensioners, have suffered as a result of low rates. However, many families with mortgages have benefited.
The Bank rate was cut to 0.5% in March 2009, and has remained there ever since.
The £43bn of losses savers have had to bear comes from comparing their income from interest before and after the Bank cut rates to 0.5%.
But because savings in banks and building societies are outstripped by mortgages, mortgage borrowers have gained by a wider margin. They have paid £51bn less in monthly interest, the figures show.