Italy and Spain pass austerity measures to control budgets and debts
Thursday, September 8th 2011 - 05:58 UTC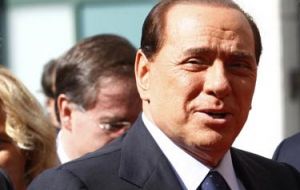 Italy and Spain have passed new austerity measures as they battle to control their debts. Italy's upper house of parliament approved an austerity package which should cut its deficit by some 54 billion Euros over three years.
Spain's Senate gave final approval to a "golden rule" in its constitution to keep future budget deficits to a strict limit. On Wednesday, Greece also stepped up its austerity plans.
The Italian Senate voted 165-141 with three abstentions to approve the package, which was put to a confidence vote to make sure Prime Minister Silvio Berlusconi's allies united behind the government after weeks of argument.
The package now goes to the lower Chamber of Deputies, where Mr Berlusconi also has a majority.
Tens of thousands of Italians took to the streets on Wednesday for a day-long strike against the measures, which include a rise in sales taxes and a revised wealth tax.
Meanwhile, Spain's vote for a "golden rule" makes it the only country apart from Germany to have such a limit. Under the change, Spain must stick to a long-term deficit cap except in times of natural disaster, recession, or extraordinary emergencies.
The moves come amid a mood of increasing urgency within the Euro zone to act to solve the debt crisis.
Also on Wednesday, Greece stepped up its deficit reduction plans in the face of accusations it was stalling and France approved a 12 billion Euro package of budget savings, largely by clamping down on tax breaks.