Four seriously injured when Korean fishing vessel catches fire in Montevideo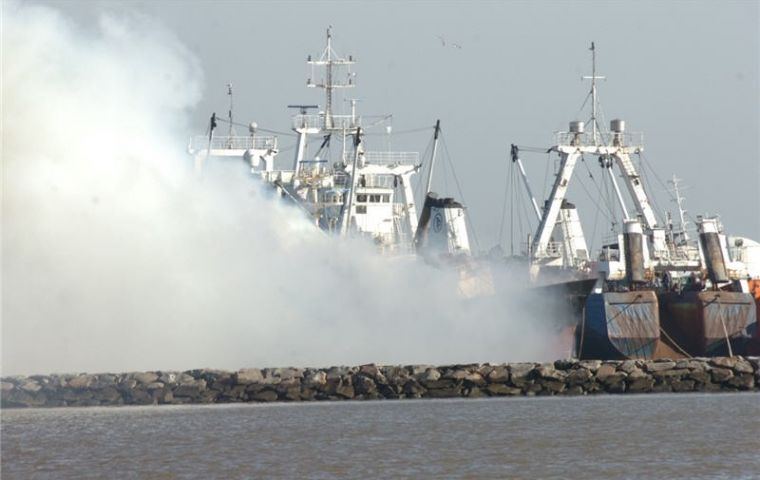 Four crewmen seriously injured and a total loss was the result of a fire that broke out Thursday night in a Korean flagged fishing vessel docked in the port of Montevideo and was still burning Friday morning.
Fire brigades worked all night trying to control the flames that apparently started at the engine room, spread to the fishing processing area and finally engulfed the whole vessel.
Mid morning Friday when the charred remains of "Aureola 9" were being tugged to the outer bay of Montevideo, several explosions rocked the vessel breaking some glasses in nearby offices to the port.
Primary information indicates that the ammonia tanks were responsible for the explosions. Korean fishing vessels use ammonia for the cold storage, an element which is considered volatile and most vessels under other flags do not longer employ.
The four crewmembers, two Vietnamese and two Indonesian are hospitalized in special units since they suffered serious scolding injuries in their respiratory tracks caused by the fumes and high temperatures.
According to the Uruguayan Navy the vessel caught fire at 01:20 Friday morning and the situation was considered under control six hours later by 07:30. The 34 crew members with the exception of the four injured managed to escape on their own.

"The operation was of high risk given the abundant inflammable materials and half full fuel tanks of the vessel, besides the fact the she was berthed next to other fishing vessels", said Montevideo's Fire Brigade spokesperson.
"The vessel is a complete loss because the explosions complicated the situation. The fire was under control but not extinguished so she was pulled out into the bay when the explosions occurred. We have been informed that explosions are over and flames will die out in a few hours", said Nestor Fernandez, Deputy Manger for Operations in the port of Montevideo.
At Friday mid day a special unit from the Montevideo Fire Brigade was working on the vessel with high pressure hoses from several tugs.