Miss Colombia panties and Miss Australia see-through dress on the limelight
Monday, September 12th 2011 - 22:35 UTC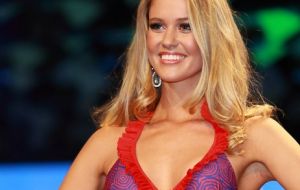 Miss Universe 2011 will be aired Monday night but there has been plenty of sparking controversy. Catalina Robayo, Miss Colombia has been snapped one too many times without her panties.
Scherri-Lee Biggs from Australia has run into trouble over her choice of dress for the final beauty pageant which was considered too 'see-through'. Likewise she was told to get some competition bikini bottoms with a bit more coverage.
According to FoxNews.com's entertainment column, "Pop Tarts", 22 year old Catalina Robayo was "reprimanded" by Miss Universe officials after a photo of the candidate, wearing a revealing dress sans panties, appeared in Brazilian newspapers.
"Colombia had to be spoken to and told she needed to wear underpants as what she was doing was totally inappropriate," a "close source" told Pop Tart. "People have been pretty upset by it; there have been photos and media appearances where she has completely had her crotch out," the source added.
In an interview with the website, Paula Shugart, President of the Miss Universe Organization said Robayo told them that she was wearing panties in her outfits. "But regardless, it created quite a stir here for a few days" Shugart added.
The 21year old Perth-based model Scherri-Lee who was praised for her choice of clothes in the 'national costume' round, has been told by pageant organisers during rehearsals that her satin gown is considered too "offensive" for the final because it is see-through.
Miss Universe Australia director Deborah Miller revealed "there's been a problem with the evening dress, because it's too sheer".
Along with being instructed to cover up, Biggs has also been ordered to make her bikini bottoms larger to ensure it holds everything in place while cat-walking on the ramp.
But the ban of briefs hasn't been the pageant's only problem. Officials were forced to return bikini bottoms from sponsor Catalina Brasil Swimwear after they were deemed too skimpy for audiences.
It's far from the first time controversy's reigned at one of millionaire Donald Trump's many pageants. Carrie Prejean memorably condemned gay marriage at the 2009 Miss USA pageant, posed for partially nude photos and later lost her crown due to breach of contract. Last year, the Miss USA organization came under fire after releasing racy portraits of the contestants clad in lingerie.
The headlines about Trump's latest pageant will no doubt woo more viewers to Monday night's broadcast. And there's a silver lining for Robayo, too.
"If it doesn't work for her at Miss Universe, she could always go to Hollywood" said Shandi Finnessey, fashion commentator for the pageant. "It worked for Paris and Britney".