Fears of a Greek default spread uncertainty to world markets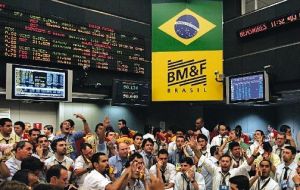 United States shares staged a late recovery on Monday to post only their second positive close of the month. Earlier, European and Asian markets fell on fears that Greece may default. In Latin America results were much in line with the US.
A series of news reports that Germany may be preparing for an "orderly default" by Greece also sent the euro lower. German officials sought to shore up confidence on Monday, saying the stability of Greece and the euro was "the common goal".
Bank shares were hardest hit, with France's BNP Paribas closing down 12%. Other French banks also fell amid rumours of a possible downgrade of their debt and concerns about their exposure to Greece and Italy.
London's FTSE 100 closed down 1.6%, France's Cac 40 dropped 4.0% and Germany's Dax lost 2.3%. The declines followed heavy falls in Asia, where Hong Kong ended 4% down.
But after having spent most of the day in negative territory, the Dow Jones Industrial Average closed up 69.0 points, or 0.63%, at 11,061.1. The S&P was up 0.7% and the Nasdq, 1.1%.
The Euro fell to a 10-year low against the yen, and investors poured money into German bonds in a flight to safety.
In Brazil a late rally failed to push the leading stock index to a higher close Monday, with most shares declining on growing concerns about a possible sovereign debt default by Greece.
Ibovespa index of leading shares fell 0.2% to close at 55,686 points. Volume was moderate at 5.33 billion Brazilian Reais, which is equivalent to 3.1 billion dollars. The index's course throughout the session roughly tracked that of the Dow Jones Industrial Average.
In Mexico the Peso closed at a 12-month low against the US dollar Monday on risk worries over the European debt crisis. The Mexican stock market's key IPC index closed 0.1% lower, also paring deeper losses in the session.
Argentine stocks posted wide losses on Monday, but bonds held up better as investors sought out the high yield and relative safety of government debt. The Merval index of leading shares ended 2.4% lower at 2,688.06 points. Volume was moderate at 51 million pesos (12 million).
In Chile the blue-chip IPSA index ended 2.2% lower Monday, slipping to 4015.40 points, while market volume jumped to 74.23 billion Chilean pesos (156 million dollars). As several of the IPSA heavier-weighted shares also trade in New York, the IPSA often tracks the Dow Jones Industrial Average.
Colombian stocks declined marginally Monday as an end-of-session buying spree erased most of the sharp losses seen earlier in the trading day. The Colcap index, which encompasses the country's blue-chip stocks, dipped 0.12% to close at 1,629.90 points.
In Peru, the Lima stock market climbed a modest 0.17% and closed at 19.939,77 points during even more modest trading. The shares were up, 18 down and 30 remained stable.