G7 countries lack Unasur "imagination and audacity" to overcome current crisis
Tuesday, September 13th 2011 - 05:33 UTC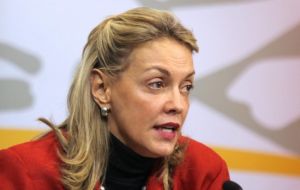 The Secretary-General of the Union of South American Nations (UNASUR), Colombian María Emma Mejía said that the region has shown "more imagination and audacity in the measures applied" than G7 countries, which are debating how to get out of the mess they are currently undergoing.
"The countries of the G7 need a lot more than only releasing a communiqué; the blocs they represent rehearsed almost everything, passed extremely harsh austerity laws for their citizens, but they were of no use. However, our countries that are part of G20 and BRIC had more imagination and audacity due to what we've learned in the '80 and '90s" Mejía continued.
Mejía explained how UNASUR country members applied actions that were debated in the last presidents' summit in order to "agree and implement joint measures to protect themselves from the crisis".
She highlighted Colombia's decision to have closer links with Brazil and to trade with local currency, leaving aside the US dollar. These are trade mechanisms with local currencies, "following on the successful example and experience of Brazil and Argentina".
Likewise Mejia said that the region has 600 billion dollars in reserves, "and it's time we begin working and operating with our own currencies", she added.
Unasur chairwoman also mentioned that the "Latin American Reserves Fund, the strengthened Andean countries promotion fund, are tools which are intended to impede speculative capital, that come wishing to crack the good moment the region is undergoing which is estimated to grow on average 4.4%, a percentage envied by developed countries".
Referring to the impact of the crisis in the region, the secretary-general assured she is "optimistic, meaning we have done things well after passing through the lost decade of the '80, and the failed decade of the '90. Latin America learned from the past."
Mejía reported that members of UNASUR will meet in November in Cusco, Peru to advance in "measures that can make growth effectively turn into social affairs development, where the region must keep working to ensure inclusion and a more fair distribution of income".
Meanwhile from Asuncion it was reported that Paraguay became the twelfth country to join Unasur following the promulgation by the Executive of the incorporation bill.
The bill was approved in Congress by a vast majority in early August and was signed last week by President Fernando Lugo. The country's membership of Unasur, the incorporation of Venezuela to Mercosur (blocked by the Paraguayan Senate) and naming an ambassador in Brazil are three priorities of the Paraguayan Executive.
Paraguay will be taking the rotating Unasur chair and therefore must organize a presidential summit. The idea is to take advantage of the coming Ibero-American summit event next October 28 and 29 in the Paraguayan city of Luque. Although an agenda nightmare Unasur heads of state could take the opportunity and hold parallel meetings.