Germany debates "taboos" and possible "orderly insolvency" for Euro zone crisis
Tuesday, September 13th 2011 - 07:23 UTC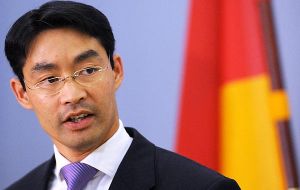 German Chancellor Angela Merkel said on Tuesday there were generally no taboos in politics but that the Euro zone crisis would not have a mechanism for 'orderly insolvency' of one of its members until its permanent rescue mechanism comes into power in 2013.
"There are generally no taboos for thought in politics. But we are a government and we must, of course... be able to control all process we want to design," she told RBB info-radio in an interview.
"We do not currently have such a mechanism (for orderly insolvency in the Euro zone) and that's why the (European Stability Mechanism) ESM has to come into force."
Merkel's comments come a day after Economy Minister Philipp Roesler, who leads the junior coalition party the Free Democrats in her government, said that to stabilise the Euro there could "no longer be any taboos". Merkel said in her interview everyone should balance their words carefully to avoid further market volatility.
Merkel also said she was confident her coalition parties would get a majority without having to rely on the opposition in a lower house vote on September 29 on giving the European Financial Stability Fund (EFSF) more powers.
Economy Minister Roesler said an ''orderly default'' for Greece could no longer be ruled out and he branded the country's deficit-reduction measures ''insufficient''.
Writing in the Die Welt newspaper, Roesler said: ''To stabilize the Euro, we must not take anything off the table in the short run. ''That includes, as a worst-case scenario, an orderly default for Greece if the necessary instruments for it are available.''
He said such a default would mean ''re-establishing the affected state's ability to function, perhaps with a temporary restriction of its sovereign rights''.
Mr Roesler's comments come as Germany's Der Spiegel magazine said Finance Minister Wolfgang Schaeuble had ordered preparations to be made for a Greek bankruptcy.
The report claimed the German government was preparing for two eventualities under that scenario: Greece staying in the Euro zone or exiting and reintroducing the drachma.
Underlining the difficulties facing German authorities, a survey showed 53% of Germans oppose further aid for Greece and would not save the country from default should it fail to fulfill loan criteria.
Despite the speculation, the European Commission said it was sending a team to Athens in the next few days to finalize the payment of a new tranche of loans for Greece by the end of the month.