Mothers of Plaza de Mayo group queried for money laundering and fraud
Tuesday, September 13th 2011 - 05:06 UTC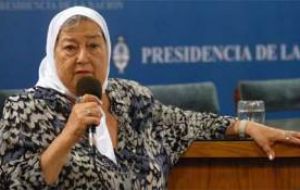 Over twenty offices and homes were raided by the Argentine police on search warrants as part of the ongoing investigation into alleged money laundering and fraud with government housing funds by the human rights organization Mothers of Plaza de Mayo Foundation.
"With the raids we were successful in discovering several of the financial caves where Sergio Schoklender, (the foundation's former financial manager and main suspect in the case) use to cash and exchange checks. All this evidence will be submitted to experts", said Magistrate Norberto Oyarbide who has the case, in a Sunday interview with the Buenos Aires daily Tiempo Argentino.
"Schoklender is believed to be responsible of several actions that presumably could be typified as crimes and for that reason this court is looking into all possible evidence", said Judge Oyarbide who is trying to determine what happened with millions of dollars in government funds awarded to the Mothers of Plaza de Mayo Foundation supposedly to build accessible housing.
However Judge Oyarbide said that Hebe de Bobafini, president of the Plaza de Mayo Mothers foundation "has not been indicted and her future depends on what the investigation brings out since there are some things that we must finish to analyze to see if she effectively was involved or not".Nevertheless Oyarbide in previous statements said that "Hebe de Bonafini is not a plaintiff because the lady is a suspect within the cause that investigates the irregularities of fund managing that were destined to the 'Shared dreams' housing program".
Likewise, Oyarbide revealed that former financial manager Sergio Schoklender acted "violently" during his spontaneous declaration earlier last week. "Yes, this man (Schoklender) acted in a violent way. He was very upset but he has to understand that he is a suspect and I am the judge, these are the rules."
The judge predicted that this probe will turn into a huge cause, much like other recent notorious corruption cases in Argentina.
"Bonafini is not a plaintiff in this case. She is suspected in all this issue. There's a letter of authorization that the Mothers handed to a professional, and that man is a plaintiff, representing the Mothers" insisted the Judge.
Interviewed by several radio stations, Hebe de Bonafini admitted to having bank accounts abroad, particularly in Europe, entitled to the organization and other colleagues, but assured that "they have been closed for the past five years".
Bonafini also admitted to the organization being hired to make posters and flyers for the President Kirchner election campaign.
The Mothers organization head made the comments in response to accusations made earlier by Schoklender who stated Ms Bonifani had functioning foreign bank accounts and had contributed with funds to the Kirchner electoral campaigns.
In addition to this, Schoklender mentioned that the private jet he used was also being used by national lawmakers.
Schoklender who led a tycoon's life as manager of the Mothers of Plaza de Mayo human rights foundation and was supposed to build homes for the needy and poor, was found to have significant bank deposits, villas, a collection of sport cars, limousines, yachts and even private jets, all presumably financed with government housing funds for 'Shared dreams'..