BRICS countries preparing aid package in support of the European Union
Wednesday, September 14th 2011 - 06:43 UTC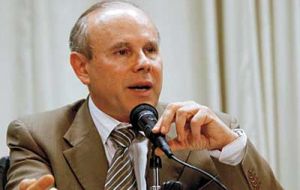 Brazil, Russia, India, China and South Africa, which make up the so-called BRICS group, will meet in Washington next week to discuss how to help the European Union avert a full-blown financial crisis as Greece veers toward default on its debt, Brazilian Finance Minister Guido Mantega said Tuesday.
The BRICS bailing out the Old World is a scenario that few would have imagined just a few years ago before the financial crisis and recession, when Europe and the United States were on top. But those economies are stagnant now, as countries such as Greece, Portugal, Ireland and Italy struggle with huge debts, government austerity drives and high unemployment.
"The BRICS nations will meet next week in Washington and we will discuss how to help the European Union get out of this situation," he said. BRICS nations would likely increase their holdings of Euro-denominated bonds as a way to provide support for the region's spreading financial problems.
But as new troubles in Europe roil the markets daily, the question is how much the BRICS group can help the embattled 17-member monetary union.
On Tuesday, the Italian Treasury was forced to pay a record-high yield to sell five-year bonds, reflecting growing concerns about the country's debt burden. Meanwhile, German Chancellor Angela Merkel pleaded for the Euro zone's survival, attempting to defuse growing expectations that Greece is on the brink of defaulting on its debt obligations as the country's cash reserves rapidly deplete and its bond yields skyrocket to unsustainable levels.
Buoyed by strong exports, high growth rates and generally sound fiscal positions, countries in the BRICS group are increasingly taking the role of creditor nations, ready to provide a financial backstop to the so-called PIIGS – Portugal, Ireland, Italy, Greece and Spain.
Those countries are suffering through a debt hangover after years of credit-fuelled expansion came to an abrupt halt during the global financial crisis, while recent moves to slash government spending weigh on a fragile rebound.
Mantega's comments came after Valor Economico, Brazil's top business newspaper, said any European bond purchases would send a powerful political message to wealthy, though struggling, economies.
"The political interest is clear – to appear publicly as contributors to market stability and thereby demonstrate to what extent the balance of the global economy is changing" the paper said.
In other words, bond purchases of euro zone countries would highlight the BRICS' growing economic power and stature. Those countries were once disparagingly knows as members of the Third World. Today, they are potential saviours of the First World.
Among the BRICS, it is China that pioneered the purchase of sovereign junk debt. Since the euro zone crisis started, it has bought Portuguese and Greek bonds, though the value of its purchases is not known.
This week, the Italian government revealed that it had met with Chinese officials to encourage China's purchase of Italian bonds and investments in strategic companies.
In an interview at the Frankfurt Auto Show, Sergio Marchionne, the Italian-Canadian chief executive officer of both Fiat and Chrysler, said: "If the Chinese are willing to invest, God bless them. But the fact that we had to go there [begging for money] is not a good sign".