Menem acquitted from gun running to Ecuador and Croatia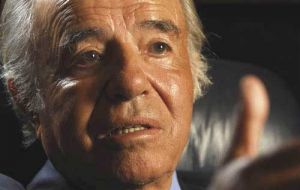 Former Argentine President Carlos Menem was acquitted in connection with the case of gun running to Ecuador and Croatia between the years 1991 and 1995.
The verdict was announced in the Comodoro Py courthouse, in Buenos Aires City. Other seventeen people, including former Defence Minister Oscar Camilion, and Menem's former brother in law Emir Yoma were acquitted as well.
The gun running case was one of the most remarkable cases against former President Menem, who ruled Argentina between 1989 and 1999 in a scandal and corruption plagued administration.
During the nearly three-year trial, Menem said he was "completely innocent" and had no idea the weapons shipments he authorized to Venezuela and Panama would be diverted to countries that were under arms embargoes.
Argentina was barred from supplying Ecuador with weapons since it played a peace-keeping role after Ecuador and Peru fought a brief war in 1995. Arms sales to Croatia were internationally banned during the wars that tore apart the former Yugoslavia from 1991 to 1995.
"This verdict reflects the letter of the law, at least the law I studied at university," former Defence minister and co-defendant Oscar Camilion told reporters after leaving the televised court hearing.
Still a senator for his home province of La Rioja, the flamboyant Menem governed Argentina from 1989 to 1999, pushing free-market reforms such as the privatization of leading airline Aerolineas Argentinas, energy company YPF, the natural gas monopoly, telephones, trains, etc.
Such policies have fallen out of favour with many Argentines, who blame them for precipitating the devastating economic crisis that plunged millions into poverty in 2001/02.
During his presidency, Menem was known for a flashy lifestyle and he married a former Miss Universe half his age after leaving office.