President Obama dealt double setback: on the economy and Israel support policy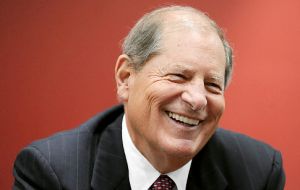 US President Barack Obama has been dealt a double setback after Republican wins in two seats, including one billed as a referendum on his economic policies. In New York, Republican Bob Turner won a key election to succeed Democratic Congressman Anthony Weiner, who quit in June over a sex texting scandal.
The retired media executive is the first Republican to take office in New York's ninth district since the 1920s.
Meanwhile, Mark Amodei defeated Democrat Kate Marshall in Nevada.
Addressing jubilant supporters after his win, Mr Turner said people had voted against the president's "irresponsible" fiscal policy. Backed by former New York City mayor Rudolph Giuliani, Mr Turner said the vote was a "referendum" on President Obama.
"We've been asked by the people of this district to send a message to Washington and I hope they hear it loud and clear," Turner told supporters. "We're ready to say, 'Mr. President, we are on the wrong track.'"
With 84% of votes counted, Mr Turner had won 54% of votes compared to Democratic state assemblyman David Weprin's 46%, according to US media agencies.
The ninth district, encompassing parts of southern Brooklyn and south-central Queens, has long been a traditional Democratic stronghold. Registered Republican voters are outnumbered in the traditionally blue-collar, Catholic and Orthodox Jewish district by a margin of three to one.
A key plank of Mr Turner's campaign was aimed at the district's Jewish community, appealing to their support of Israel and painting Mr Turner as the only candidate guaranteed to stand up for the interests of the Jewish state.
Some influential politicians like former New York Mayor Ed Koch, a Democrat, endorsed Turner to protest Obama's Israel stance. Some critics say Obama hasn't been supportive enough of Israel and object to his call for Israeli-Palestinian negotiations to use the Jewish state's pre-1967 borders as a starting point.
During the campaign, Republicans made Mr Obama the focus of at least as many attacks as David Weprin, a member of the New York state assembly and the actual Democratic candidate.
Meanwhile in Nevada, Republican Mark Amodei won the election to fill a vacant seat in the House of Representatives.
Amodei beat Democrat Kate Marshall in the rural northern Nevada district that has never elected a Democrat. The previous post-holder, Republican Dean Heller, was appointed from the House to the Senate in May to replace Republican John Ensign, who resigned over a sex scandal.
Turner's triumph and Amodi's in Nevada boosted the Republican majority over Democrats in the House to 242-192.
Turner, who said he entered politics because he was "fed up" with overspending in Washington, has called for deep cuts in the federal budget. Weprin had tried to cast Turner as part of the Tea Party, which wants smaller government and lower taxes and is unpopular with many liberal New Yorkers.