US non partisan agency forecasts slower growth and 9% unemployment in 2012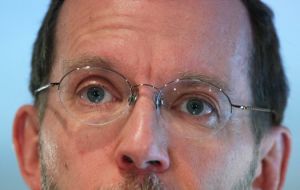 US economy will grow slower than anticipated and joblessness will stay high as the fallout of the deepest recession since the Great Depression takes its toll, the Congressional Budget Office said on Tuesday.
In testimony to a "super committee" of Congress weighing deficit-reduction steps, CBO Director Douglas Elmendorf said the non-partisan agency sees economic growth of around 1.5% this year and 2.5% in 2012. That's down from CBO August estimate of 2.3% and 2.7%, respectively.
The US unemployment rate, CBO said, now at 9.1%, will remain "close to 9% through the end of 2012," Elmendorf said. Last month, CBO estimated joblessness at 8.9% this year, falling to 8.5% in 2012.
During the first hearing held by the special bipartisan panel, Elmendorf painted a picture of worsening conditions from just a few weeks ago, when his agency last issued an economic outlook.
"Particularly important given the current state of the economy, immediate spending cuts or tax increases would represent an added drag on the weak economic expansion," Elmendorf told the panel.
The panel is charged with identifying by Nov. 23 at least 1.2 trillion dollars in new government savings over 10 years. Credit-rating agencies have warned that without significantly deeper savings -- more like 3 trillion dollars, the U.S. government could suffer another credit downgrade.
Standard and Poor's agency downgraded America's top-notch AAA rating in August after an ideological battle between the White House and Republicans over raising the US borrowing limit brought the country to the brink of a debt default and unnerved global financial markets.
Deep divisions among the panel's six Democrats and six Republicans over raising taxes and cutting major benefit programs for the elderly and poor will make it hard if not impossible to reach consensus even as US debt approaches 15 trillion dollars, nearly the size of the entire US economy.
Senate Finance Committee Chairman Max Baucus, a Democratic member of the committee said after the panel's hearing that comprehensive tax reform, which could bring in more revenues "is just so complicated and so important; I don't think we have yet determined whether we can do" it this year.
A broad revamp of the complicated US tax code, which has not been done in 25 years, could include lowering corporate tax rates, eliminating special-interest tax breaks and raising taxes on the wealthy.
Elmendorf told the lawmakers that major decisions need to be made by the beginning of November to give CBO time to assess their effectiveness.