Lagarde to Mantega: BRIC offer should not be limited to EU safe bonds
Thursday, September 15th 2011 - 18:52 UTC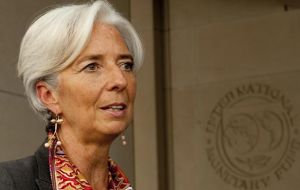 The International Monetary Fund hopes investments in European bonds by the fast-growing BRIC (Brazil, Russia, India and China) economies are not limited to less risky government bonds such as German or British bonds, IMF managing director Christine Lagarde said in an Italian daily on Wednesday.
In answer to a question from La Stampa newspaper on comments by Brazil's Guido Mantega to invest in Europe, she said such a plan is not in disagreement with the IMF and is acceptable for the IMF.
"This interest of the BRICs is an interesting development, but if it is limited to German or British (bonds), they will not take on big risks," Lagarde said in the newspaper.
"My hope is that if these interventions happen it will be of wide scope and not limited to the safe bonds of a few states," she said.
In other comments, Lagarde said central bank resources to fight the crisis are "practically infinite" while the fund itself is already discussing member countries contributions to the IMF.
To boost growth, banks have to lend and in order to do this they have to have solid balance sheets, she added.
Italy's 54 billion Euro austerity package, being discussed by the parliament, goes in the right direction but "the key now becomes the determination and implementation of the measures", she said