Merkel's NEIN to Euro-bonds: "collectivizing debts" doesn't solve the problem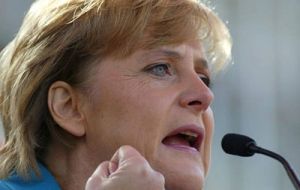 German Chancellor Angela Merkel bluntly rejected Euro zone bonds as a solution to the currency area's sovereign debt crisis, saying that "collectivizing debts" would not solve the problem.
Speaking a day after the head of the European Commission raised financial market hopes by pledging to present options soon for issuing such common bonds, Merkel said: "Eurobonds are absolutely wrong.
"In order to bring about common interest rates, you need similar competitiveness levels, similar budget situations. You don't get them by collectivizing debts," she said in a speech at the Frankfurt auto show.
The chancellor, facing rising public opposition to Euro-zone bailouts, said there was no quick and easy way out of the debt crisis, only a step-by-step process of individual countries putting their fiscal house in order.
Many investors see joint debt issuance as the best way out since it would reassure markets that Europe's strongest economies were taking responsibility for weaker states.
But Germany, the Euro zone's main paymaster, argues that it would raise the borrowing costs of virtuous countries and remove the incentive for profligate states such as Greece or Italy to clean up their public finances.
European Central Bank policymaker Lorenzo Bini Smaghi highlighted that risk in a speech in Rome on Thursday.
"Without stringent constraints, Eurobonds risk favouring fiscal policies that, on average, are more expansionary, and a higher debt, whose cost is also shared among the more disciplined countries," he said.
On a conference call with Greek Prime Minister George Papandreou on Wednesday, Merkel and French President Nicolas Sarkozy voiced their support for keeping Greece in the euro zone and continuing financial assistance provided it sticks strictly to austerity measures to meet its fiscal targets.