Argentina will defend domestic market from flood of "Asian textile imports"
Saturday, September 17th 2011 - 02:58 UTC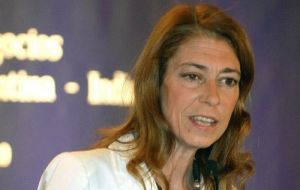 Argentina will reinforce the defence of its domestic market from 'the danger of an invasion of Asian countries' imports, as a consequence of the world crisis, promised this week Industry Minister Debora Giorgi.
Addressing the ProTextil 2011 show, Giorgi said Argentina had managed "to recover a competitive textile industry with a strong potential as an international referent" and this is 'one of the successful examples of the productive model with strong government support that has been implemented since 2003'.
Ms Giorgi said that the policy of the government since 2003 has been "to defend the domestic market, increase the purchasing power of labour and control the access of disloyal competitive imports plus soft loans and specific incentives to attract foreign investments".
This way Argentina "has ensured manufacturing profitability so that textile entrepreneurs keep investing and consolidating the productive chain".
Giorgi revealed that since 2003 the Argentine textile sector has increased production by 143%, added half a million jobs in the production chain, distributed nationally and increased exports by 61%.
"The government loaned the textile industry 134 million pesos (approx 34 million dollars) at a fixed rate of 9.9%. The five year loans include one of year of grace" said the Argentine minister adding that investments in the sector reached 1.5 billion dollars, with "first line corporations such as Brazil's Correa, Santana, Santista and Vicunha deciding to establish plants in the country".
(Official inflation in Argentina averages 8% to 9%; real market estimates, 23% to 25%)
"Let us not forget that in the nineties the textile industry was virtually wiped out with the loss of 180.000 jobs and the closure of 2.500 factories", she emphasized.
Minister Giorgi called on the textile entrepreneurs to continue investing since "we have a domestic market with per capita consumption that is almost double what it was in 2003, soaring from 8 to 15 kilos".
Likewise "we have the potential to boost that figure to 22 kilos", since the textile industry has become federal, with the production chain, to the final consumer, encompassing development poles in different provinces.
Further on Ms Giorgi said that the international crisis threatens Latin America with an invasion of textiles from Asian countries, but to avoid this Argentina will reinforce the "scheme to safeguard the domestic market, a policy which was successful at the start of the 2009 international crisis".
Minister Giorgi revealed that Argentina has "116 non automatic licence' positions in the textile sector and 9 anti-dumping investigations on course", but "we also have a solid competitive import substitution process with international brands such Lacoste, Nike, Adidas, Puma, Levi's, Wrangler and Zara manufacturing in Argentina".