Brazilian president first woman to open round of UN General Assembly speeches
Monday, September 19th 2011 - 06:52 UTC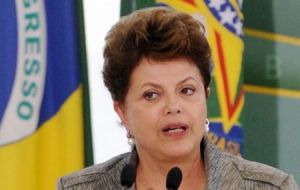 Brazilian president Dilma Rousseff will become on Wednesday the first woman ever to open the round of speeches marking the beginning of the United Nations General Assembly, according to Brazilian sources.
"On the 21st, the President becomes the first woman since the foundation of the United Nations to address, with her speech, the opening of the General Assembly", pointed out the Brazilian Foreign Affairs ministry.
President Rousseff's activities in New York begin Monday at a special meeting on chronic diseases chaired by the former Chilean president Michelle Bachelet who is currently head of the Woman Office in the UN.
On Tuesday Ms Rousseff is scheduled to meet with US president Barack Obama with both leaders making the official presentation of the Open Government Society, a UN promoted initiative, which this year is jointly chaired by the US and Brazil, said Rodrigo Baena, spokes person for the Brazilian presidency.
Later in the day the Brazilian president will be meeting her Mexican peer, Felipe Calderón and at night will be awarded a prize for her dedication as public servant, from the Woodrow Wilson International Centre for Scholars.
On Wednesday before opening the round of speeches of the 66th General Assembly, President Rousseff will have a private meeting with UN Secretary General Ban Ki-moon.
"The president is drafting a wide ranging and incisive speech in which she will defend social inclusion and human rights guarantees", said the official news agency Brazil.
Likewise the Brazilian leader will address the effects of the global crisis, the need to reform the UN Security Council, supporting sustainable development and recalling that next June 2012 Rio do Janeiro will be hosting the world conference on climate change, Rio+20.
Following her speech the Brazilian president is scheduled to hold private meetings with UK Prime Minister David Cameron and later French president Nicholas Sarkozy with whom she will address the world crisis among other issues.
On Thursday the agenda in New York is over but previously Ms Rousseff will be participating in a UN nuclear security meeting and of a Security Council session on preventive diplomacy.
Over 120 world leaders are expected in New York for the UN General Assembly where Palestine's bid for UN membership is likely to be the highlight. A lot of attention is also expected around the 'Arab Spring' and general unrest in that region.