Close ally of CFK re-elected by a landslide: "Cristina this triumph is also yours"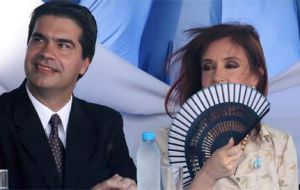 Jorge Capitanich, governor of the northern province of Chaco and a close ally of Argentine President Cristina Fernandez de Kirchner was re-elected Sunday by a landslide difference of 30 points over his runner up.
"We are committed to the national development project. Chaco and Argentina have an excellent opportunity: next to President Cristina we can turn the country into a world power in food, energy and tourism" said Capitanich on celebration night and after dedicating the victory to President Fernandez.
"We clinched the biggest electoral triumph in the history of the province. No other governor could obtain almost 67% of the vote as we did" said Capitanich.
"We were expecting a strong popular support, but the results beat any previous expectations", and added, "this victory is even bigger when you consider that Chaco has been historically governed by the Radical Party".
Asked about the reasons behind such a massive support, Capitanich did not hesitate to remember that under his 4-year administration "Chaco grew 47.7%. Figures never reached before, not at least during the past 50 years, and this is to a great measure the result of President Cristina Kirchner's policies: this triumph is also yours Cristina."
"There is still too much work to be done, but we are going the right way", he emphasized.
Capitanich also mentioned late president Néstor Kirchner. "I dedicate this triumph to a great friend of mine who lies illuminated in heaven" said the governor.
The defeated candidate Senator Roy Nikisch belongs to the opposition Radical party and was running for an anti-Kirchner coalition "Front for All Alliance". He was governor of Chaco from 2003 to 2007.
Bordering with Paraguay, Chaco has an electoral roll of 757.234 registered voters, Argentina's ninth electoral district equivalent to 2.64% of total voters.
Capitanich was cabinet chief under caretaker president Eduardo Duhalde (2002/03) and became governor for the first time in 2007 with 47% of the ballot.
His name sounded as one of the possible candidates for the re-election ticket bid of President Cristina Fernandez, who finally picked Economy minister Amado Boudou.
Presidential elections are scheduled for next October 23.
Boudou and Interior minister Florencio Randazzo flew Sunday night to Chaco to be next to the winner and participate in the celebration.
Capitanich, according to the local press, is also seen as one of the strong names for the 2015 Argentine presidential election.
The Chaco election follows on nine other provincial contests and in the capital Buenos Aires plus the August 14 primaries leading to the October 23 presidential ballot which has Cristina Fernandez as the most certain winner with an overwhelming majority.
From Buenos Aires cabinet chief Aníbal Fernández congratulated Capitanich saying "only a great administration allows one to obtain such a large margin victory".