Flights to Bariloche in Argentine Patagonia back to normal after 4 months of ashes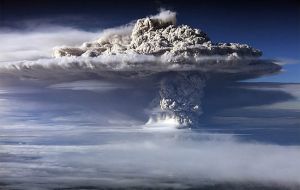 After months of inconveniences and troubles caused by the Chilean Puyehue volcano eruption, an airplane finally touched down Saturday at the airport tarmac of the Argentine Patagonia sky resort of Bariloche.
The Bariloche airport hadn't received domestic flights since June 4. Throughout the past four months, nearly all airlines cancelled their flights toward the area due to strict security precautions in place because of the volcanic ash clouds that threatened visibility and the aircraft turbines.
The first flight was an Aerolineas Argentinas flight carrying 140 passengers that touched down Saturday morning, 10:30, said a spokesman for the airport.
On July 18 a charter airline brought 120 tourists from Sao Paulo, and since then the airport has received a handful of smaller private or charter flights.
Before the Puyehue volcano kicked off a winter of air travel mayhem, when it rumbled back to life on June 4, the airport some 1,600 kilometers southwest of the Argentine capital was receiving at the least six flights per day.
For the first time in five decades the Chilean volcano belched billowing clouds of dust and ash, and while Bariloche enjoyed a normal amount of snow, the city's tourism officials reported a marked decline in revenue compared to a normal winter season.
Flights across South America -- including from hubs in Montevideo, Santiago and southern Brazil -- had all been hit in previous months as ash clouds swept around the southern hemisphere to linger over Australia and New Zealand and even South Africa.
The Puyehue volcano is high in the Andes cordillera, 870 kilometers south of Santiago near the border with Argentina. Bariloche is not far from the border.