IMF/EU/ECB tell Greece to shrink public sector, otherwise expect no check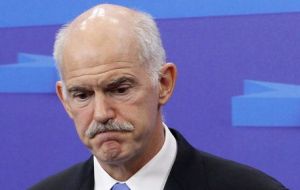 International lenders told Greece it must shrink its public sector and improve tax collection to avoid default within weeks as investors spooked by political setbacks in Europe dumped risky Euro zone assets.
Hours before a telephone conference between the Greek Finance Minister and senior officials of the European Union and the International Monetary Fund, the IMF representative in Greece spelled out steps Athens must take to secure a vital 8 billion Euro rescue payment next month.
"The ball is in the Greek court. Implementation is of the essence," Bob Traa told an economic conference.
Additional savings measures were needed to cut the public deficit to a sustainable level and reduce the public sector's claim on resources - code for axing jobs and cutting pay and pensions - while improving tax collection rather than adding further taxes, he said.
The Greek cabinet was due to meet after the teleconference with the IMF/ECB/EU "troika", pushed back to 1600 GMT, to discuss further austerity measures to make up for a fiscal shortfall.
Prime Minister George Papandreou cancelled a planned trip to Washington and the United Nations at the last minute and returned home on Saturday in response to the crisis.
Greek media published a list of 15 austerity measures it said the troika was demanding the Socialist government implement to receive the next tranche of aid.
They included firing another 20,000 state workers, cutting or freezing state salaries and pensions, increasing heating oil tax, shutting down loss-making state organisations, cutting health spending and speeding up privatisations.