Best Angus bull at Uruguay's Prado Show sold for 45.000 dollars to Argentina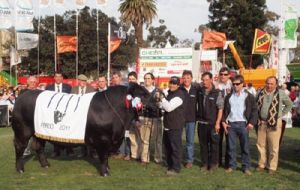 Sales in Uruguay's main livestock show, --the 2011 edition of Expo-Prado--, totalled 765.000 dollars and 245.5 animals which is a significant improvement over the previous year (in numbers and dollars) but also because Uruguayan genetics was exported to Mercosur neighbours.
The Prado show attracts every year the best of Uruguay's livestock, usually with foreign judges nominating the best prizes, and is a guide for sales of meat bulls and rams in regional shows during the so called spring sales across the country.
The highest price in the sheep category was for the Corriedale Great ram Champion which was auctioned at 18.000 dollars for 50% of the piece, which means the full price was 36.000 dollars. Half the ram was purchased by three renowned Argentine farms.
In a private negotiation, the best Aberdeen Angus meat bull, the Great Champion of the breed, was sold at 40.000 dollars to the Argentine Ciale Insemination Centre. The third best Angus heifer was auctioned to a farm in Sao Paulo, Brazil for 20.000 dollars.
Another significant price was for the Best Polled Hereford cow which was sold 50% locally for 9.000 dollars, bringing the total price to 18.000 dollars. The best Hereford bull was sold at 12.500 dollars.
Other outstanding special sales included: 10 Hereford heifers averaging 6.444 dollars and seven Bradford heifers averaging 3.460 dollars.
Angus was the breed which sold most bulls and heifers with the best Young bull traded at 10.500 dollars.
In total 245.5 animals (up 15 from a year ago) were sold in this year's Prado Show edition totalling 765.000 dollars, which is 92.800 dollars over last year. Numbers split up as follows: bovines 117 (up 8) and 494.780 dollars; 25 horses (up 8) for 51.652 dollars; 82.5 sheep (up 3.5) and 203.795 dollars plus 21 pork (down 5) and totalling 14.780 dollars.
According to the Uruguayan Rural Association, the organizers of the Prado Show, 550.000 people visited the grounds during the ten days the event was open. The figure is 50.000 higher than last year and is considered a great success given the fact that the closing weekend when the inauguration ceremony the weather was windy and rainy.