Five Uruguayan marines sentenced to jail for 'gross misconduct' in Haiti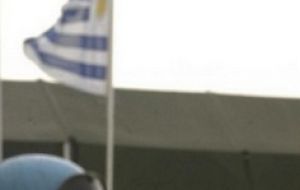 Five Uruguayan marines from the UN peacekeeping mission in Haiti accused of abusing a young Haitian were sentenced to jail by military justice for serious misconduct and omissions while on duty.
The case which made headlines worldwide when a half minute cellular video showed the five marines involved in what seemed sexual abuse, following on the military sentence, will now be addressed by Uruguayan common law on alleged charges of rape or rape intent.
Military judge Washington Vigliola investigated the charges and questioned the five marines over the weekend. The five had been flown in from Haiti and remained in custody in naval barracks.
Finally Vigliola with the help of a previous report from another military judge who was in charge of the first investigations in the UN Uruguayan compound in Haiti, ruled that the five marines had committed the crimes of serious misconduct and omissions while on duty according to Uruguayan military law.
The case now is to be considered by the Navy's Superior Tribunal which will decide whether the five marines involved are to be discharged from the force.
Simultaneously a common law criminal magistrate will begin proceedings in the case following on a formal "rape accusation" filed by the Ministry of Defence.
In the internet video which was aired over two weeks ago, the five marines laughing and joking seem to be involved in the sexual abuse of a young 18 year old Haitian.
The controversial episode motivated an immediate reaction from Uruguayan authorities who sent a military judge while President Jose Mujica in an open letter apologized to Haitian president Michel Martelly.
The video sparked uproar and rioting in Haiti. However three independent primary investigations from the United Nations, the Uruguayan Navy and the Uruguayan Ministry of Defence arrived to the conclusion that there was no evidence of sexual abuse and that serious acts of misconduct occurred from the moment the young Haitian should have never been inside the military compound.
The three preliminary reports, not confirming abuse, became public following the hearings of the Uruguayan congress defence committee.
Apparently the young Haitian was a regular visitor of the compound which means other Uruguayan marines officers will be recalled to explain why guards on duty did not control who walked in and out of the military premises, and if so on whose orders.