(Paymaster) Germany needs Parliament approval on deciding Euro zone bailouts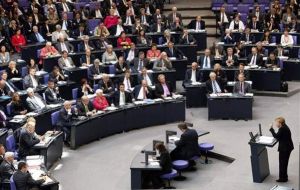 Leading lawmakers in German Chancellor Angela Merkel's coalition have agreed a draft law on an enhanced Euro zone bailout fund to give a greater say to parliament in line with a court ruling earlier this month.
The Sept. 29 vote on the law, which will boost the powers of the European Financial Stability Facility (EFSF), is being widely viewed as a major test for Merkel who is facing a revolt among her own ranks.
The parliamentary leaders of Merkel's conservatives and her Free Democrat (FDP) coalition partners agreed on Tuesday the draft law, senior conservative Volker Kauder said, noting that opposition parties had also endorsed it.
This week, the draft will go to the budget committee for approval, and then back to parliamentary groups for a final, broader endorsement. The new law will enable the German government to offer guarantees worth 211 billion Euros, up from 123 billion Euros.
A draft of the law obtained by new agencies shows that the government can do very little without the agreement of parliament.
"We are showing citizens that the use of their tax money is decided by none other than the parliament they themselves elected," FDP budget expert Otto Fricke told reporters.
Basic decisions, such as agreeing on granting aid to a further Euro zone state, will have to be passed by parliament and if there is not a positive vote for the aid, German representatives in the EFSF will have to vote against. Abstaining would not be an option.
Germany's Constitutional Court in Karlsruhe ruled earlier this month that parliament had to have greater say in granting aid to heavily indebted countries like Greece in future.
Critics argue that this will make it difficult for Germany, the biggest contributor to any aid, to act quickly to help crisis-hit states. A senior member of Merkel's conservatives said the draft even went beyond what the court had stipulated.
The parties have agreed that a new sub-committee of the powerful budget committee should be set up to be able to make speedy and confidential decisions if needed.
The committee, which could be asked by the government to consult in confidence, could also refer decisions back to the budget committee if it believed they were not urgent.
"Here we have found an arrangement that secures the broad participation of parliament and which goes further than the demands made by Karlsruhe," said Peter Altmaier, CDU parliamentary floor leader.
"Still, (it) ensures that Germany, as a European player, remains capable of taking action with the involvement of parliament in the event that it has to act quickly and decisively in certain situations".