Brazilian daily creates a "Folhaleaks" to help combat rampant corruption
Wednesday, September 21st 2011 - 05:58 UTC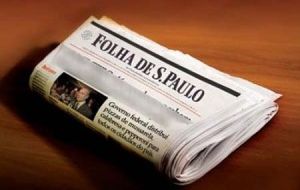 Brazilian daily Folha de Sao Paulo on Sunday launched an online initiative to collect feedback from sensitive information and leaks for journal investigation, a Web site it dubbed "Folhaleaks" in direct reference to the widely known Wikileaks Web site founded by Julian Assange.
The initiative, which is accessible via the online edition of the daily, aims to be "a tool that will allow the reader to send unedited information and documents capable of generating investigative reports to be prepared by the newspaper's team."
Users will be able to download documents in different formats and preserve their anonymity, while the daily has committed itself to undertake the verification, comparison and confirmation of the information, according to the paper's Web site.
"Folhaleaks was created to broaden the access of society to relevant information, tightening even more the relationship of the readers with the production of reporting of public interest," said Folha's executive editor Sergio Davila.
The initiative got up and running after this past week the paper complained on different days about irregularities in the use of public funds supposedly committed by Brazil's Tourism Minister, Pedro Novais – revelations that cost him his job.
With the new program, the daily is emulating the Web site Wikileaks, founded by Australian Julian Assange, which has published thousands of government documents – many of them secret – concerning the wars in Iraq and Afghanistan, as well as diplomatic communications generated by the U.S. State Department.
Rampant corruption in the Brazilian political and business communities traditionally has gone mostly without much impact. However in recent years the electronics revolution has opened the way for younger generations to replicate the uproar caused by notorious cases.
President Dilma Rousseff in her nine months in office has lost four ministers to corruption allegations and many other top officials have been forced to resign.