Cuban regime warns "corrupt and corruptors"; close friend of Raul Castro family arrested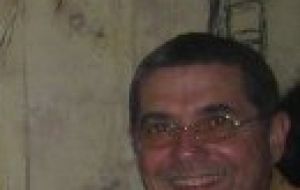 Cuba's official press blasted the "corrupt and corruptors" more specifically "those scoundrels dressed in civil servant responsibilities" because they put at risk the island's long struggle to make Socialism successful.
"Juventud Rebelde" revealed that lately it has emerged to the limelight trials of people "embedded in their cysts of power" who have become personally rich "with resources that belong to the Cuban people and are so dear for a poor country oppressed by the implacable imperial lash".
Indicating that trials continue, the daily publication from the Communist youth warns that "corrupt and corruptors" are still "disaggregating our most sacred values and thus, if we refer to facts, they are proof of their sapper attempts against Socialism".
Likewise writes the newspaper "those scoundrels dressed in civil servant responsibilities", if Socialism were to collapse in Cuba, "have ranting dreams imagining they will belong to the crest of opulent speculators".
Since President Raul Castro announced in 2008 a sweep against rampant corruption in the country and particularly in the ruling communist party, the local press has been reporting some trials and sentences, although the extent and number of people accused and indicted is a well kept secret.
However it is known that a string of scandals in Cuba's telecommunications, aviation, nickel, cigar and other industries have led to the arrests and dismissals of scores of government officials, including some deputy ministers.
Some have had great international impact when they refer to foreigners working in companies established in Cuba. One of the latest to emerge but leaked through Miami has been the case of the arrest of President Raul Castro's youngest daughter boyfriend.
Julio Cesar Diaz Garrandes, a former Miami resident who has bragged of being a spy for Cuba, has been held in an interrogation centre in Havana for three months, sources told El Nuevo Herald.
But his sister Maria, who lives in Miami, told El Nuevo Herald that they spoke by telephone and that he had denied being under detention. "He is well," she added.
Diaz Garrandes is the boyfriend of Nilsa Castro, the youngest of the Cuban ruler's three daughters. Both in their late 40s, they have been together for years but are not married and keep separate homes, the sources added.
"He is in jail, no doubt on that," said one Cuban man who has known Diaz Garrandes in both Havana and Miami. He said he learned of the detention from contacts high in the Cuban government.
The man added that the boyfriend was under investigation, but has not been charged, in a corruption case involving an unidentified Canadian-Spanish company that was doing business with the Cuban government.
Juan Juan Almeida, who lived for a time in Raul Castro's house because he was the son of a hero of the revolution, wrote Thursday that Diaz Garrandes was being held in a military facility.