Spanish oil company takes the lead in super-fast analysis of seismic data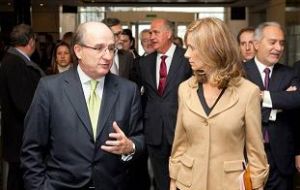 Spanish oil major Repsol-YPF and the Barcelona Supercomputing Centre launched this week their new joint research centre aimed at speeding the analysis of seismic data.
The Repsol-BSC Research Centre, the fruit of four years' collaboration in the field of seismic imaging applied to exploring for hydrocarbons, will be staffed by 11 research scientists and will be located at BSC facilities in Barcelona.
The inauguration of the centre was presided by Spain's Science and Innovation Minister Cristina Garmendia, Repsol Chairman and CEO Antoni Brufau, and the economy and research adviser of the Catalan regional government, Andreu Mas-Colell.
The project was conceived in 2007 as an application of the latest generation of technology to discover new gas and oil deposits while respecting the environment.
To process huge amounts of data while generating and interpreting subsoil images using seismic and electromagnetic methods, BSC is calling on the MareNostrum supercomputer, one of Europe's most powerful.
The technology that BSC has developed up to now allows Repsol to process data up to 15 times faster than other companies in the sector and has boosted the reliability of seismic images.
With this project Repsol takes the lead in exploring complex subsoil areas with large reserves of hydrocarbons like the Gulf of Mexico and the deep ocean waters of Brazil.
BSC, founded as a consortium of the Science Ministry, the Catalan regional government and the Catalonia Polytechnic University, currently employs more than 300 researchers from 27 countries.