UK Deputy PM very much interested in Falklands' relations with 'neighbours across the sea'
Wednesday, September 21st 2011 - 22:27 UTC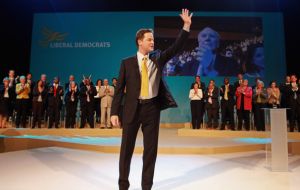 UK Deputy Prime Minister Nick Clegg was very much interested in the Falkland Islands situation, oil prospects and relations with "our neighbours across the sea", said Islands' lawmaker MLA Roger Edwards present at the Liberal-Democratic party conference this week in Birmingham.
This was the first time Falklands representatives whom every year attend Labour and Conservative party conferences, were present with a stand at the UK ruling coalition junior partner five day autumn conference.
MLA Rogers said that all Lib-Dem leaders "all the way down, top to bottom" including Nick Clegg and Jeremy Brown plus all the MPs visited the Falklands' stand.
"Nick Clegg who visited us on the very first day of the conference, last Saturday, was interested on how are things back home (Falklands), current oil prospects and particularly as 'always and everybody' relations with our neighbours across the sea", said MLA Edwards.
"I think we gave him a very good update summary of the general upbeat mood in the Islands in spite of the continued attitude of our neighbours", said MLA Edwards.
The response to this first time at the Lib-Dem conference was "very, very positive" and people were "very pleased we were there" with the stand for the full five day, said the Falklands elected Member of the Legislative Assembly.
Further on MLA Edwards said that attending the Lib-Dem conference was very good indeed and anticipated he would strongly recommend his colleagues that the experience be repeated in coming years.
"Obviously I have to talk it over with my colleagues but the stand paid for itself on the first hour and a half of the opening on Saturday; over fifty people with connections to the Islands be it because of holidays, the services, teachers, nurses, doctors who have been to the Islands visited us", pointed out MLA Edwards.