World crisis "too deep" to be addressed by "a couple of countries" exclusively
Wednesday, September 21st 2011 - 17:08 UTC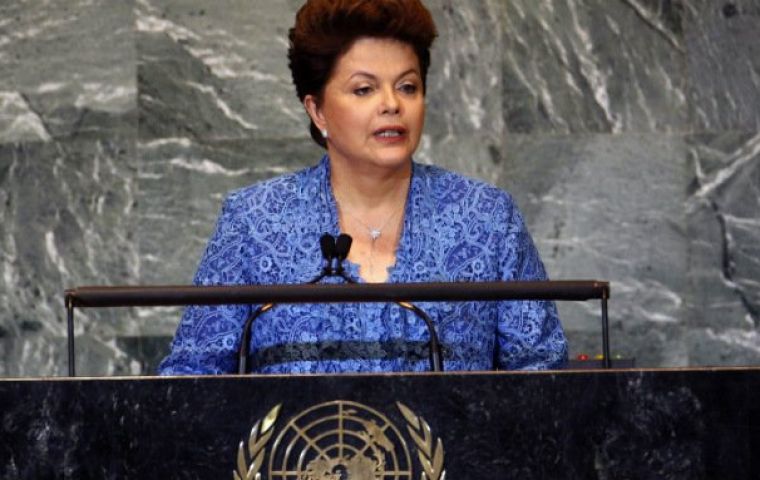 Speaking at the UN General Assembly, Brazilian President Dilma Rousseff warned that a full blown economic crisis could be devastating for emerging countries as well as for the world's largest economies. She added that the global financial situation could cause a "serious rupture."
Nations should halt currency wars by avoiding free-floating exchange regimes stated Rousseff, adding that Brazil was not invincible against the global crisis though she claims it was one of the world's least affected countries by the recession.
"Controls must be imposed on the currency war through the adoption of floating exchange rate regimes," she said in a speech at the opening of the UN General Assembly session.
"That means putting an end to exchange rate manipulation both by excessively expansionary monetary policies (US) and by the stratagem of fixed exchange rates (China)," she observed.
The Brazilian leader stressed the crisis is "too deep" to be addressed by "a couple of countries" exclusively. According to her, the emerging countries earned their right to participate on the crisis decisions for being the ones "currently responsible for the world's economic growth" and reinforced the Brazilian claim to a permanent seat on the UN's Security Council.
The chief of state also showed full Brazilian support to the Palestinian claim to UN recognition saying it was "a legitimate right" and highlighted "Muslims and Jewish should coexist in peace." She remembered Brazil recognizes Palestine within the 1967 border delimitations, before de Six Days War. "It is time for Palestine to have representation here."
On the ecological front, Rousseff said Brazil has presented a plan to significantly reduce CO emissions and is ready to take a leading roll on the process. She also stressed the importance of fighting poverty and remarked the importance of gender inclusion.
The Brazilian President became the first woman to open a United Nations General Assembly in the 66 years of the institution's history.
"I feel I am representing all the women in the world. The ones who cannot feed their kids, suffer domestic violence, house wives and ordinary women in general," she said.
"As a women tortured during dictatorship I am very aware of the values of justice," she concluded.