Brazil's August unemployment stable at 6% in tight labour market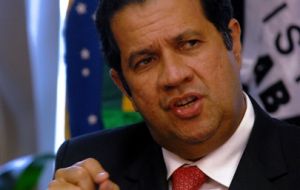 Brazil's unemployment rate remained unchanged at 6% in August, a record low for the month while average real wages rose 0.5% from the previous months to 1,629.40 Reais (839.16 US dollars) a month, the government statistics agency IBGE report showed.
With employers increasing salaries for sought-after workers, near record-low unemployment rates in Brazil have helped boost inflation to six-year highs.
The benchmark IPCA inflation index sped above a 6.5% target ceiling in April and has only picked up its pace since, with the rate at about 7.33% in the 12 months through mid-August.
Nevertheless, the central bank cut its benchmark interest rate to 12% from 12.50% at the end of last month, citing an expected slowdown thanks to a Euro zone sovereign debt crisis and worries the US economy -- the world's biggest -- could be faltering.
Analysts said the rate cut was risky, leaving central bank chief Alexandre Tombini little room to manoeuvre should inflation not brake as expected. Other central banks in Latin America have yet to follow Brazil's move, pausing a monetary tightening cycle but not yet cutting.
Labour Minister Carlos Lupi said on Sept. 14 that Latin America's largest economy will create more than 2.7 million jobs this year, down from previous forecasts of 3 million. The jobless rate will end this year at 5.5% percent to 5.7%, he said on Aug. 29.
Brazil's economic growth slowed last quarter to 3.2% from a year earlier, down from 4.2% in the first quarter and 7.5% last year, the fastest pace in two decades.
Even as the global slowdown hit Brazil's industrial sector, which shrank in July from a year earlier, workers across the nation have walked off their jobs to demand higher salaries. The metalworkers union in the industrial belt surrounding Sao Paulo voted in favour of a 10% wage increase on Sept. 20 after threatening to strike.
Economists expect the benchmark Selic rate to end this year at 11 percent, according to the median forecast in a Sept. 16 central bank survey of about 100 economists. Their forecast for the 2012 year-end Selic fell to 10.75% from 11%.
Brazil's federal revenue rose 15.92% in August from a year earlier to 74.61 billion Reais (39 billion dollars), the federal tax agency said on Thursday. The Treasury said today that Brazil's federal debt rose 1.96% to 1.77 trillion Reais (958 billion dollars) in August from July.