IMF re-activates resource pool of 571 billion for another six months
Thursday, September 22nd 2011 - 22:17 UTC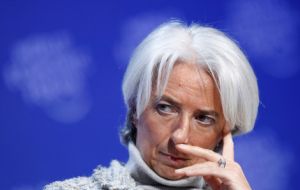 The International Monetary Fund re-activated this week a 571 billion dollars resource pool to ensure it has funds to help cover Europe's worsening sovereign-debt crisis. The IMF extended activation of its so-called New Arrangements to Borrow for a six-month period from October.
The crisis is entering a dangerous new phase. The risk of a Greek default is rising and Italy and Spain's sovereign debt has come under attack.
According to the IMF the pool of supplementary resources are only to be activated when "needed to forestall or cope with a threat to the international monetary system". The IMF managing director must first make a special request to tap the special fund.
IMF Managing Director Christine Lagarde has said recently that a heightened readiness is required given the elevated risks in the global economy.
So far, the IMF has already distributed nearly 11 billion from the NAB. Specific financing programs requiring additional board approval are needed to use the resource pool.
In total, the supplementary fund can provide up to about 571 billion in extra resources to the IMF, but only around 331 billion is currently available for use. Without the special resource pool, the IMF would only have around 60 billion on hand.
It is funded through bilateral loans from countries, unlike normal IMF lending resources, and is designed as a temporary measure. It is expected to be largely replaced by an agreement reached late last year by the fund's board of directors to increase quotas, the share of contributions that each member must give to fund IMF lending.
NAB was extended from October 1, 2011 to the end of March 2012. The expanded NAB became effective on March 11, 2011 and was activated on April 1 for the maximum period of six months.