Obama tells Palestinians UN is not a short cut to negotiations with Israel
Thursday, September 22nd 2011 - 08:43 UTC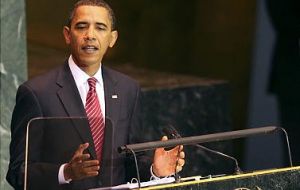 US President Barack Obama told the United Nations that the Palestinians deserved a state of their own, but that this would only be achieved through talks with Israel.
"I am convinced that there is no short cut to the end of a conflict that has endured for decades. Peace will not come through statements and resolutions at the UN," Obama said in his speech to the UN General Assembly on Wednesday.
"Ultimately, it is Israelis and Palestinians - not us - who must reach agreement on the issues that divide them: on borders and security; on refugees and Jerusalem," the text of his speech said.
Grappling with economic woes and low poll numbers at home and growing doubts about his leadership abroad, Obama is wading into Middle East diplomacy at a critical juncture for his presidency and America's credibility around the globe.
Obama followed his speech with a round of talks with Israeli Prime Minister Benjamin Netanyahu, who echoed the president's assertion that renewed negotiations were the only path to a peace deal but offered no new ideas how to get back to the table. He said, however, that the Palestinians' UN statehood effort "will not succeed."
French President Nicolas Sarkozy proposed the UN give the Palestinians status as an observer state while setting out a roadmap for peace within one year.
In his speech to the UN General Assembly, Sarkozy warned that a UN Security Council veto of Palestinian statehood ambitions risked engendering a new cycle of violence in the Middle East. "Let us cease our endless debates on the parameters and begin negotiation ... to a precise timetable," he said.
In a roadmap for peace, Sarkozy said negotiations should begin within one month, a deal on borders and security should happen within six months and a definitive agreement be reached within a year.
"Today we are facing a very difficult choice. Each of us knows that Palestine cannot immediately obtain full and complete recognition of the status of United Nations member state," he said. "But who could doubt that a veto at the Security Council risks engendering a cycle of violence in the Middle East?"
Sarkozy said an intermediate stage should not be excluded.
"Why not envisage offering Palestine the status of United Nations observer state? This would be an important step forward. Most important, it would mean emerging from a state of immobility that favors only the extremists. We would be restoring hope by marking progress towards the final status," he said.
The Palestinians have said that as an alternative to the Security Council, where the United States has promised to veto any statehood vote, they could ask the U.N. General Assembly to approve upgrading their membership from "entity" to "non-member observer state."
A spokesman for Palestinian President Mahmoud Abbas said Abbas would study Sarkozy's proposals.