The Medvedev-Putin teams hang on: next March they change posts
Saturday, September 24th 2011 - 22:17 UTC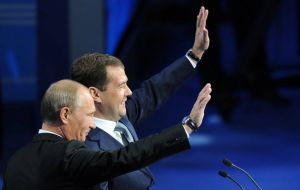 Vladimir Putin declared he was ready to return to the Russian presidency after current head of state Dmitry Medvedev announced he would bow to his mentor at March's election.
Ending months of speculation over which of them will be president, Medvedev proposed Putin, now prime minister, at a congress of the ruling United Russia party. Putin, widely regarded as the driving force in the country for the last 11 years, invited Medvedev to take his place as prime minister.
"It is a great honour for me," Putin said to loud cheers and applause from thousands of party members gathered in a Moscow sports stadium. "Thank you, I hope for your support."
Opinion polls show Putin is sure to be elected for a six-year term in the March presidential election, ushering in what critics say could be an era of stagnation in the world's biggest country.
His party also hopes to hold on to its two-thirds majority in the State Duma lower house in a parliamentary election on Dec. 4 with Medvedev as the top candidate on its list.
Putin, 58, is widely seen as more conservative than Medvedev and some economists have said his return to the Kremlin could herald an era of economic stagnation in the world's biggest energy producer.
Others have said that although Medvedev, 46, is widely portrayed as more liberal, there is more difference in their style than in their policies.
Putin was president from 2000 to 2008 but steered Medvedev into the Kremlin in 2008 because he was barred from a third successive term by the constitution.
Medvedev agreed at the United Russia congress that he would head its list of candidates in the parliamentary election and Putin then invited him to take over the government.
The next government is expected to face many economic challenges and calls for tough economic and political reforms, which critics say could provoke unrest.