Falklands' Rockhopper spuds new well and plans another drilling slot
Monday, September 26th 2011 - 17:02 UTC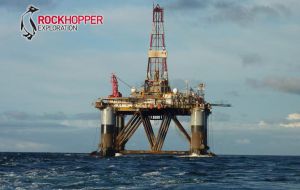 Rockhopper Exploration is in talks with Diamond Offshore about lining up another drilling slot as it spuds a well off the Falkland Islands. Diamond Offshore are the owners of the Ocean Guarding drilling rig contracted by Desire Petroleum and involved in the current hydrocarbons exploration round.
The company announced that on Sunday morning it proceeded to spud the 14/10-8 exploration well on Licence PL032 just outside of its huge Sea Lion oil discovery area.
"This well is designed to investigate reservoir and hydrocarbon presence within the Sea Lion main complex in an area of relatively low amplitudes and is also an exploration well on both the Casper and Kermit oil prospects" read the statement from Rockhopper.
The new well is only 4 kilometres from the 14/10-2 discovery well. The Sea Lion main complex is estimated to have prospective resources of between 608 million barrels and 1.2 billion barrels. This excludes the three prospects that are located in Block 14/10.
Drilling at the 14/10-8 well is expected to take four weeks.
Rockhopper also said it is in discussions with Diamond Offshore "with regards to the assignment of a further drilling slot to which the Company would be required to commit prior to the spudding of well 14/10-9".
Rockhopper floated on AIM in August 2005 and holds a 100% interest in four Falklands' offshore production licences awarded by the Islands' government: PL023, PL024, PL032 and PL033 which cover approximately 3,800 sq. km.
The company has also farmed in (7.5% working interest) to licences PL003 and PL004, which are operated by Desire Petroleum.
In February 2010, the Ocean Guardian drilling rig arrived in Falkland waters to carry out a multi-well drilling campaign.
Rockhopper drilled an exploration well on its Sea Lion prospect during April and May 2010, the result of which was the first oil discovery and Contingent Oil Resource in the North Falkland Basin.
The Sea Lion discovery was successfully tested during September 2010 and June 2011 and was the first oil to flow to surface in Falkland Islands waters.