Greek minister denies talks with IMF and EXB for an "orderly default"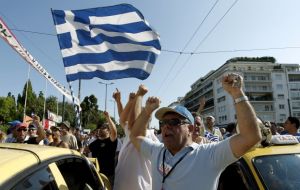 Greek Finance Minister Evangelos Venizelos dismissed reports that he has discussed a scenario of an orderly default by Athens with International Monetary Fund Chief Christine Lagarde and European Central Bank head Jean-Claude Trichet.
"We have reached a point where there are reports about what has been said in a closed door meeting with the participation of only Mrs. Lagarde, Mr. Trichet and myself," Venizelos was quoted as saying in a statement from his ministry.
"What is absolutely sure is that there hasn't been and couldn't have been any discussion about the so-called scenario of an orderly default" underlined Venizelos.
Inspectors from the International Monetary Fund, European Central Bank and European Commission are scheduled to return to Greece this week to determine whether the Athens government will receive another 11 billion Euros in emergency loans. Without the fresh funds, Greece's government says it will run out of money by the middle of October.
Meanwhile the country faces a new round of transport strikes and protests over austerity measures. Commuters in Athens faced 24-hour strikes from metro, tram and suburban rail workers Monday, while buses and trolleys were to stop running for several hours in the middle of the day.
Airline passengers also faced delays as air traffic controllers refused to work overtime. More strikes are expected later this week.
Greek police held their own protest, hanging a giant black banner from the top of a popular landmark that read, "Pay Day, Day of Mourning". On Sunday, police fired tear gas at protestors at Syntagma Square in central Athens.
The new Greek austerity programs put in place to satisfy international creditors, including a new property tax, pension and job cuts and more tax hikes.