Palestinians ready for negotiations if Israel freezes construction of settlements
Monday, September 26th 2011 - 06:42 UTC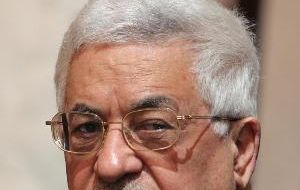 Palestinian President Mahmoud Abbas repeated his refusal to talk with Israel without a settlement freeze after international mediators, responding to his United Nations bid for statehood, urged negotiations within a month.
"We have confirmed to all that we want to achieve our rights through peaceful means, through negotiations -- but not just any negotiations," Abbas told a cheering crowd of thousands on his return to the West Bank city of Ramallah.
"We will not accept (negotiations) until legitimacy is the foundation and they cease settlement completely," he said, two days after presenting the application for Palestinian statehood and addressing the U.N. General Assembly in New York.
U.S.-brokered peace talks collapsed a year ago after Israeli Prime Minister Benjamin Netanyahu refused to extend a 10-month limited moratorium on construction in settlements in the occupied West Bank.
Palestinians say the settlements, built on land Israel captured in a 1967 war, would deny them a viable state. Israel cites historic and Biblical links to the West Bank, which it calls by its Hebrew names, Judea and Samaria.
Netanyahu, who has termed a settlement freeze an unacceptable precondition, gave no indication in his own speech at the U.N. of any change in his position. He urged Abbas to return to peace talks.
The United States, Israel's closest ally, has said it will block the statehood move in the Security Council, which is expected to convene on Monday to discuss the application Abbas made after 20 years of failed Israeli-Palestinian talks.
Neither Israel nor the Palestinians have responded formally to a plan from the so-called Quartet of Middle East peace negotiators -- the United States, Russia, the European Union and the U.N. -- for a return to direct negotiations.
The forum urged Israel and the Palestinians to meet within a month and set a new agenda for talks, with the aim of achieving a peace deal by the end of 2012 that would result in the creation of a Palestinian state alongside Israel.
Hours before Abbas returned to the West Bank, Netanyahu's foreign minister, Avigdor Lieberman, said there would be "tough repercussions" if the U.N. approved the statehood application.
Lieberman, who heads a far-right party in Netanyahu's governing coalition, did not spell out what action Israel might take. He said Israel had reservations about the Quartet's proposal but was "ready to open immediate negotiations" with the Palestinians.
In the past, Lieberman has suggested severing ties with Abbas's Palestinian Authority, which exercises limited self-rule in the West Bank, if it wins recognition without a peace deal with Israel.
Israel is concerned that even if the United States vetoes a statehood resolution in the Security Council, the Palestinians could still win approval in the General Assembly for a more limited U.N. membership.