The Economist analyzes trade restrictions (protectionism) in Argentina and Brazil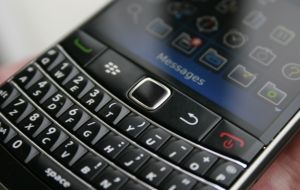 The Economist in its latest edition has a two-chapter piece on trade restrictions imposed by South America's two biggest economies. The first ("Keep Out") refers to Argentina and the second ("A self made siege') to Brazil.
Keep Out
In recent years BlackBerrys have become an essential component in the young professional's toolkit in Buenos Aires. But if you failed to buy one before the southern-hemisphere winter, you may be out of luck. "We have trouble getting them," says an assistant at a Claro mobile-phone store in posh Recoleta. "We haven't had them for months," is the answer at a Personal shop in leafy Palermo. Movistar advertises the 8520 model on its home page, but the phone is in fact sold out.
At South America's southern tip, the missing BlackBerrys are almost ready to roll off the line. On October 3rd Brightstar, a multinational manufacturer, will begin importing kits of the phones' parts to its factory in Tierra del Fuego, the normal base for cruise ships going to Antarctica. Some 300 workers will brave the frigid austral fog to assemble the pieces and put them in locally sourced packaging.
Making BlackBerrys south of the Magellan strait will cost 23m dollars upfront, plus 4,500-5,000 dollars a month per worker, some 15 times more than in Asia. But the government touts the project as a triumph of its trade policy. It will help cut foreigners' share of Argentina's mobile-phone market from 96% in 2009 to a forecast 20% by the end of 2011. "We have a domestic market with growing demand. The goal is to supply it with local labor and production," said Débora Giorgi, the industry minister, when the deal was announced.
Argentine manufacturers have been booming ever since the 2001 crash. Over most of that period, a cheap peso has ensured their competitiveness. But since 2005 inflation has been in double digits. As the trade surplus has dwindled, Cristina Fernández, the president, has beefed up her industrial policy. According to Global Trade Alert, a database of restrictions on international commerce, Argentina now imposes more trade limitations deemed "harmful" than any country save Russia.
Even before Ms Fernández's late husband, Néstor Kirchner, became president in 2003, Argentina was taxing farm exports. The policy was meant to raise revenue. But the Kirchners later justified it as a way of discouraging commodity exports in favor of manufacturing. In 2008 Ms Fernández sparked protests by trying to raise taxes on soybeans, Argentina's chief export, and lost a congressional vote. Since then the country has restricted maize and wheat exports, leaving farmers with an estimated 4m tons of maize they can neither sell at home nor ship abroad. Beef exports have also been limited, which caused ranchers to stop raising cattle and led to lower leather output and beef consumption. Many foreign leather firms, such as Italy's Italcuer, have left.
On the import side, Argentina cannot raise tariffs on its own because it belongs to the Mercosur customs union. So it is resorting to informal tools. Its main method is "non-automatic licensing", a tactic recognized by the World Trade Organization that lets countries delay imports for 60 days.
Argentina has made no pretence of honoring that time period. In January it expanded the list of products requiring licences from 400 to 600. It was a limit on phone imports that led Research in Motion to hire Brightstar to make BlackBerrys in Argentina (tax incentives then led the firm to Tierra del Fuego). Other affected goods include toys, pharmaceutical ingredients, tyres, fabrics, leather and farm machinery. On September 15th Argentina blocked imports of books, and over 1m piled up at the borders. Imports of Harley-Davidson motorcycles are frozen until 2012.
For firms that refuse to (or cannot) move production to Argentina, the government offers another option: deals to export goods worth at least as much as a company's imports. In January customs officials stopped letting Nordenwagen import Porsches. Its cars languished in port for three months before the firm succumbed to a deal. Since its owners also possess Pulenta Estate, a vineyard, they agreed to launch a new line of mass-market wines for export, erasing the family's trade deficit. They are also considering canning fruits. "It's not the same margins as fine wines, but it takes time and investment. We're trying to make it profitable," says Eduardo Pulenta, the company's export manager. "We'll keep working to import cars. That's what we know how to do."
Copying from Brazil, the next target of Argentina's new protectionism will probably be land. In April the government put forward a bill to cap total foreign landholdings at 20% of the country's territory, and to stop any individual from acquiring over 1,000 hectares (2,471 acres). It makes no exemption for technology transfers. And it counts any firm with over 25% foreign ownership as an outside buyer, forcing the government to track every trade in the shares of public companies near the limit. Investors in mining, which many Argentines tout as the "new soybeans", are nervous. The bill has not been approved. But in next month's election Ms Fernández is expected both to win again and to increase her party's share of seats in Congress.
The net effect of these policies is hard to measure. Since 2005 imports have grown faster than exports. But that gap might have been bigger without the trade limits. The industry ministry says Argentina has substituted 5 billion dollars of imports a year since 2009 (1.4% of GDP). Local consumers bear most of the cost, although some will fall on taxpayers now that the government is offering loans to exporters at negative real interest rates. Marcelo Elizondo, head of the UCES business school in Buenos Aires, says the interventions have affected the trade balance only slightly. "But it's a deterrent," he says. "It's a general message for everyone who wants to import that it will be expensive and complicated, and you're better off producing here."
A self-made siege: first they went for the currency, now for the land
On September 15th Guido Mantega, Brazil's finance minister, announced a 30-point increase in the country's industrial-product tax on cars. The amount was startling, but the purpose familiar. Cars that are mostly made in Brazil, Mexico or the Mercosur trade block will be exempt; only importers will pay. "Brazilian consumption has been appropriated by imports," he said in announcing the tax.
According to the National Carmakers' Association, poor infrastructure and pricey credit and labor mean that making cars is 60% more expensive in Brazil than in China. Local manufacturers have long relied on high tariffs. Imports are gaining market share, from 16% of sales in 2009 to 23% this year. The new measure will probably reverse that trend, since it will increase the price of imports by a quarter.
The government has taken small steps to help local firms. In August it cut payroll taxes for a few labor-intensive industries. But mostly it has tried to keep out foreign goods and capital. Mr Mantega says Brazil is "under siege" from imports. Last month the government tweaked procurement rules to favor local products (Chinese-made army uniforms were an irritant). In the past year Mr Mantega has raised taxes on foreign capital. He wants the World Trade Organization (WTO) to let countries levy tariffs on imports from places that artificially weaken their currencies.
This muscular approach continues a practice of rewriting rules to favor locals. Foreign firms can only pump oil in the recently discovered pre-salt oilfields as junior partners of the state-controlled Petrobras. Previously they could bid for all concessions on equal terms. Tax breaks will soon make locally built tablet computers a third cheaper than imports, leading Foxconn to set up a Brazilian plant to make iPads. The national development bank, BNDES, has transformed from a stodgy local lender into a chooser of national champions. Its loan book is now twice as big as the World Bank's, and it funds foreign buying sprees by Brazilian firms.
Farmland is being treated as a strategic asset on a par with oil. Last year, spooked by the idea of foreign sovereign-wealth funds and state-owned firms buying up vast tracts, the government resurrected a 1971 law limiting the amount of rural land foreigners can buy. It was revived even though in the 1990s it was deemed incompatible with the new democratic constitution and open economy. The details are under review: foreigners may be allowed to buy a bit more without restriction, and still more if the government thinks it is in the national interest. But there is no timetable for passing a new law. The Brazilian Rural Society estimates that 15 billion dollars of planned foreign agriculture investments are being dropped.
The strength of the new protectionist mood can be gauged by the government's willingness to tolerate legal uncertainty and collateral damage. It reintroduced the antique land-ownership law despite knowing that its flawed design would almost halt much-needed foreign investment. Since it limits the total share of each district that can be owned by foreigners, many land registries are playing it safe and rejecting all foreign purchasers. Kory Melby, an agricultural consultant, advises foreigners on land purchases in Brazil. He says he has heard from furious sellers whose deals are now "as good as garbage".
Car importers are mulling a challenge to the tax increase at the WTO. At issue is whether a tax that can be avoided by producing locally is an import tariff in disguise. Their trade group is trying a different legal tack: it says that the government was obliged to give 90 days' notice (it gave only one). Chinese carmakers building Brazilian factories are lobbying hard. They say that they will be unfairly hit, since ramping up production in a new plant takes years. Foreigners whose plans are less advanced may opt for a complete rethink.