Uruguay begins negotiations to mitigate Brazilian trade restrictions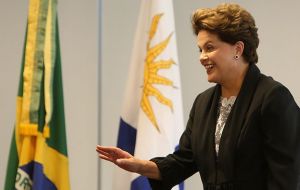 A Uruguayan government delegation will begin talks on Tuesday in Brazil to address the latest restrictions imposed by Mercosur largest member and which threaten several manufacturing sectors, particularly the auto industry, said Foreign Affairs minister Luis Almagro.
The delegation is made up of Deputy Economy minister Luis Porto, National Director for Industry Sebastián Torres and Alvaro Ons, head of the Integration and Mercosur affairs Department from the Uruguayan Foreign Affairs minister.
Last Friday it was reported that the Brazilian administration of President Dilma Rousseff had invited a Uruguayan delegation to Brasilia to begin negotiations following a call from President Jose Mujica.
The Brazilian side will be headed by Nelson Barbosa, Deputy Finance minister.
Brazil together with Argentina and China are Uruguay's largest trading partners and Brazil is the main market for Uruguay's auto industry exports. Last week as part of a package of measures to promote industry and ensure its domestic market, Brazil slapped a 30% increase on auto imports' tax except those with 65% of Mercosur components or with factories established in the country.
One of Uruguay's car exporters to Brazil, Effa, which assembles mostly Chinese originated vehicles, last Friday, closed the plant and suspended 400 workers arguing it had been facing problems since May, forcing the plant to slow production but nevertheless had an inventory of 2.000 undelivered units.
"These problems together with Argentina's decision to delay imports and Brazil's latest 30% tax surcharge last week was definitive for our plant", said an Effa spokesperson.
President Mujica said that "if Brazil's protectionist measures remain and impact on our trade, we have no other tool but to propose defensive measures". However he warned that "this is not desirable and its effectiveness questionable given the asymmetry between the different Mercosur members".
An opposition Senator, Sergio Abreu said that "this is one of the worst moments of Mercosur since it was established in 1991 because trade and economic relations have become entirely negative and contrary to the philosophy to which Uruguay originally adhered".
"Originally it was a market with no restrictions, but currently it has become a conglomerate of quotas and administered trade which was not the founding idea in 1991", said Abreu.
Last year Uruguay exported 1.5 billion dollars to Brazil (including 120 million dollars from the auto industry) with a surplus of 187 million dollars for Brazil. With Argentina the situation was worse: exports totalled 510 million dollars and imports 1.4 billion with a negative balance for Uruguay of 917 million dollars.