A ketchup scam turns sour and lands all three players in jail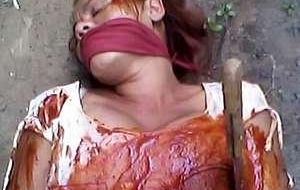 A jealous Brazilian woman could not tolerate her man's double life with a second lover, so she appealed to her life's savings to have the competitor for the same love, 'Lupita' disappeared.
Who better qualified for such a task than a former inmate who lived in the same area of the love triangle, Pindobacu in the north-eastern state of Bahia, a region internationally renowned for its beaches, colourful architecture and strong cultural syncretism.
But the contracted Carlos Roberto de Jesús not only was fond of the to-be victim 'Lupita', and occasional lover, he actually needed money to begin a more stable relation.
So far from confessing to Maria such a passion, he accepted the job and later invited 'Lupita' to conspire and share the reward.
The plan was simple: make-up the killing and the scene of the crime. CRJ had Lupita on the floor with bandaged eyes and hands tied behind her back and then smeared her with abundant ketchup.
The contracted 'murdered' then took cellular phone pictures of the victim covered in 'tomato blood' and went off for the much deserved reward for having finished with the love triangle, 575 US dollars.
However CRJ committed a major mistake: he proudly showed himself in town walking next to 'victim' Lupita, now on a more stable relation.
The scammed contractor was furious and immediately went to the police station to file a claim and the disappearance of the 550 dollars.
However she also forgot that the newly stable couple, and partners in crime, still had the pictures of the 'contracted job' in their cellular phone.
End of story: the three are in jail, Maria for planning a crime and the CRJ/Lupita couple for extortion.