Brazilian policemen arrested on suspicion of murdering anti-corruption judge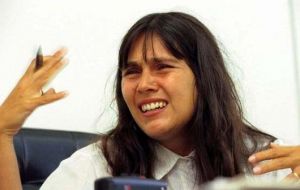 A senior Brazilian police officer has been arrested on suspicion of ordering the murder of a judge who investigated police corruption.
Lt Col Claudio Luiz de Oliveira was detained Tuesday in Rio de Janeiro, and arrest orders have been issues for at least six other policemen in the city.
Prosecutors say Col Oliveira ordered the killing to cover up another murder that his officers were accused of.
Judge Patricia Acioli was shot 21 times as she was leaving her home in August.
She had made a name for herself with a tough stance on police corruption, handing out heavy sentences in a number of cases.
Hours before she was killed, she had issued arrest warrants for a group of officers under Col Oliveira's command in connection with the death of an 18-year-old.
Diego Beliene died in a clash with police in Sao Goncalo, a city across the bay from Rio. Police officers on the scene said the teenager had resisted arrest, but investigators have since said he may have been murdered.
Prosecutors say Col Oliveira was hoping to put an end to her investigation.
However, prosecutors do not believe he was aware that the judge had issued arrest warrants for some of his men over the teenager's death.