Obama proposes Roberta Jacobson for Western Hemisphere Affairs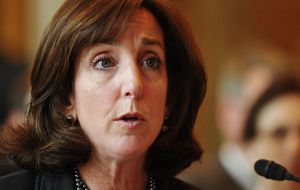 US President Barack Obama suggested that acting Principal Deputy Assistant Secretary of State in the Bureau of Western Hemisphere Affairs, Roberta Jacobson, be ratified in office, the White House announced.
Obama sent the proposal to the US Senate after Arturo Valenzuela left his post last month in order to go back to being a university professor.
Jacobson has worked in the Department of State dealing with matters related to Canada and Mexico between 2007 and 2010, headed the Mexican Affairs Office from 2003 to 2007 and was a Deputy Ambassador in Lima from 2000 to 2002.
The Obama administration had trouble confirming Valenzuela's appointment in 2009, since despite his experience in US diplomacy towards Latin America he had to wait six months to be ratified in office after a Republican senator rejected him and blocked his nomination.
Several Republican senators as well as a few Democrats have been critical of the Obama administration's policy towards Latin America due to its "softening" of sanctions against Cuba and attitude towards Venezuela.
Last January, Jacobson flew to Cuba in order to restart a dialogue on migration and visited American prisoner Alan Gross, who remains in jail after he was found guilty of espionage by the Castro regime.