Bilateral negotiations in Gibraltar's future, anticipates Spanish expert
Thursday, September 29th 2011 - 18:33 UTC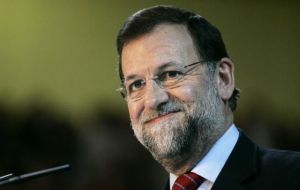 Already in difficulty under Spain's Socialists, PSOE, the Trilateral forum (Spain, UK and Gibraltar) is unlikely to flourish under a Conservative PP government. That is the view expressed by Luis Ayllon, diplomatic correspondent of the right-leaning ABC Spanish national and a veteran reporter of Gibraltar affairs.
The views are expressed in an In My Opinion article Ayllon wrote for the Gibraltar Chronicle and reciprocates his own invitation to the Chronicle Editor in previous years to put across a Gibraltar view to his readers.
Ayllon is well placed to gauge where the Spanish Conservatives of Mariano Rajoy are likely to win the next general election, will want to take their management of Spain's most longstanding Foreign Affairs issue, Gibraltar.
In his article, published in Spanish as penned, Ayllon makes clear his view that it would be a grave error to go back to the bad old days of the blockade and he recalls the tension in the Franco – Castiella days over Gibraltar.
Instead he says that today such a debate is very unlikely. The fact that Gibraltar is not under Spanish sovereignty, he states, is not one that bothers Spaniards so much as to demand that their government place this issue at the top of their agenda.
"This is why the executive that emerges in November will not have Gibraltar amongst its priorities."
Ayllon says that if polls are correct the PP will probably have an absolute majority and Rajoy will be focusing on the economic issues.
But Gibraltar will be on the Spanish Foreign Ministry agenda and all those vying for that ministry are well acquainted with the Gibraltar dossier.
It will not be long, Ayllon predicts, before Spain and UK, now of the same political lean, moot the idea of finding a solution acceptable to all sides including Gibraltar. He argues that Gibraltar rejected joint-sovereignty because the people did not want two metropolises instead of one.
But on the Trilateral forum his view is that, although it did produce some co-operation benefits, it is almost redundant because Spain will not accept what it regards as Gibraltar introducing sovereignty issues into the question of police co-operation.
Whilst the PP has not declared its policy on Gibraltar "it is quite clear" Ayllon, "that they will not continue with the Forum format".
The main reason for this is that they consider that it has not served to protect Spain's interests and that Chief Minister Peter Caruana has been the main beneficiary. The PP will listen to Gibraltarians to improve relations, but will not discuss sovereignty with them, he predicts.
"They will hope to revive bilateral negotiations that have not been held for some eight years" anticipates Ayllon.